Javelina stepping out of an arroyo
Yesterday, I had a rather unexpected encounter with a javelina while taking pictures of a landscape. I think he was as surprised as I was to see him and he retreated back to his arroyo after a couple of minutes. That meeting inspired me to write this post and how they affect the desert garden – primarily what types of plants they like to eat.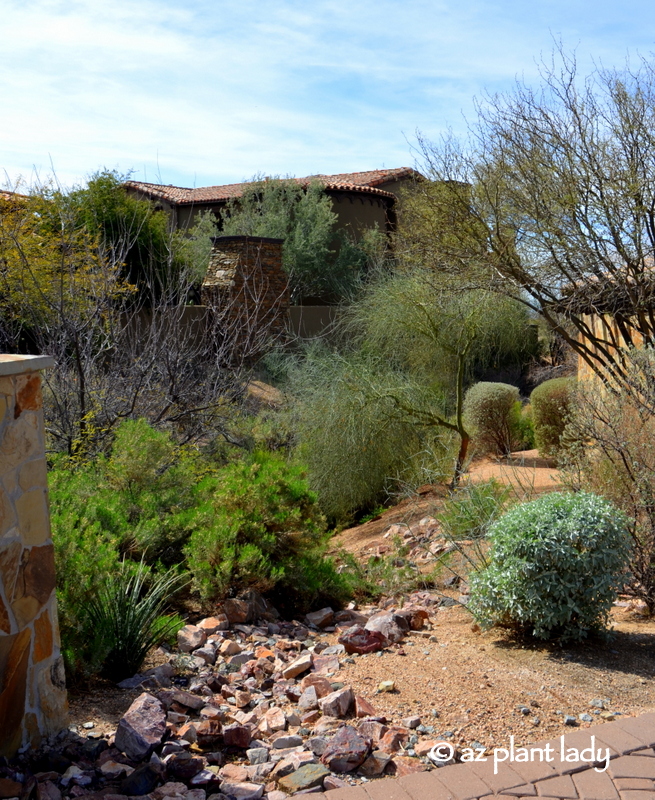 Javelina travel through arroyos (washes)
To state that I was surprised to come so close to a javelina is an understatement. In the over twenty years that I've worked in desert gardens, I seldom see these pig-like mammals as they usually sleep through the day underneath mesquite or other desert trees.
Often referred to as 'wild pigs' due to their resemblance to a boar, they aren't pigs, but are a peccary, which is a medium-sized mammal with hooves. Javelina are found throughout the Southwest, but their range also extends to Central and South America. In urban settings, you'll find them in more naturalized areas.
They frequently travel in herds, although I only saw these two adults on this day. While it can be enjoyable to view them from afar (don't get too close as they can be dangerous), dealing with the damage that they cause to gardens isn't fun.
Javelina love to eat the pretty things we plant in our desert landscapes such as flowering annuals, and they don't stop there. The spines on your prized cactus won't deter a hungry javelina – they go right in and munch on the base of a prized columnar cactus as well as the pads of prickly pear cactus.
When surveying the damage that they cause to the garden, what makes it worse, is that javelina frequently don't eat what they dig up.
My relationship with javelina is a long one, which began by working to keep them away from the thirty-six tee boxes that I had to plant with flowering annuals seasonally. Not surprisingly, they were drawn to these colorful islands and would dislodge the plants by rooting them up with their snouts before eating them.
My crew and I had some mixed success with spraying squirrel repellent every few days on the petunias, but it was a lot of work and not foolproof.
Javelina will zero in on popular potted annuals such as pansies, petunias, snapdragons, which are like candy to them. While geraniums aren't their favorite potted flower, they will eat them too if hungry enough.
If you want pretty containers filled with flowers and live in a neighborhood where javelina are present, you'll need to place the pots in an enclosed area or courtyard where they can't reach.
Bacopa
Lavender
There are some flowering plants that they usually stay away from and these include Bacopa and Lavender, which can be used in containers.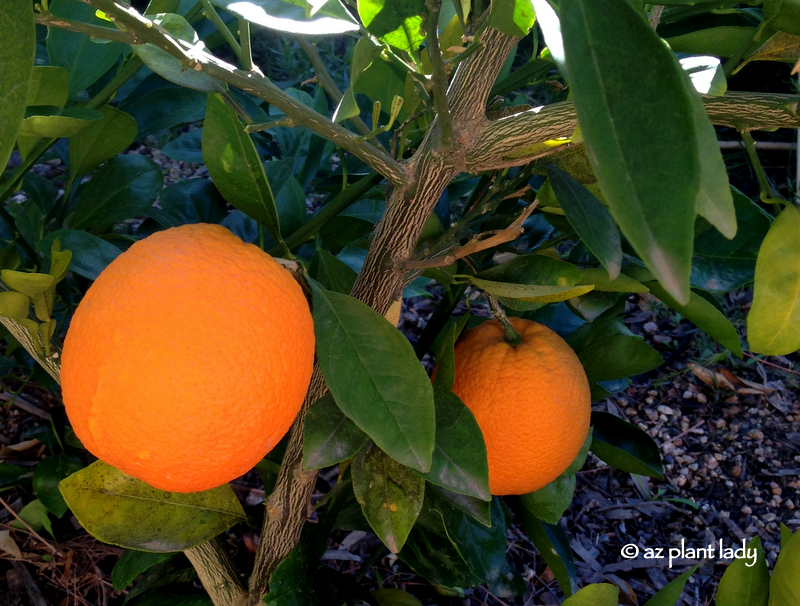 Depending on the time of year, a javelina's diet changes, based on what is available. In winter, citrus they will grab citrus fruit off of the tree.
In summer, mesquite seedpods are one of their favorite foods.
A Cereus peruvianus cactus that has some bites taken out of its base by javelina.
A fairly common sight is a columnar cactus with some bites taken out of its base, where javelina are present. In most cases, the damage is largely cosmetic and the cactus will be fine. However, to prevent further damage, you can surround the base of the cactus with a wire mesh cage.
While there is no guarantee that javelina won't eat the plants in your desert garden from time to time, there are some plants that are less palatable to them than others. Here a helpful link for javelina resistant plants, but I must tell you that if a javelina is hungry enough, it will eat the plants on this list – I know this from personal experience.
The only foolproof way to keep them away from eating your plants is to keep them out with a fence or wall.
Do you have javelina where you live? What type of plants do you notice them eating? Any plants that they seem to leave alone?

https://www.azplantlady.com/wp-content/uploads/2018/03/javelina_wild-pigs_Arizona_Sonoran_desert-003.jpg
628
800
arizonaplantlady@gmail.com
http://www.azplantlady.com/wp-content/uploads/2018/10/favicon.png
arizonaplantlady@gmail.com
2018-03-09 09:36:56
2022-09-25 03:43:43
Javelina in the Desert Garden