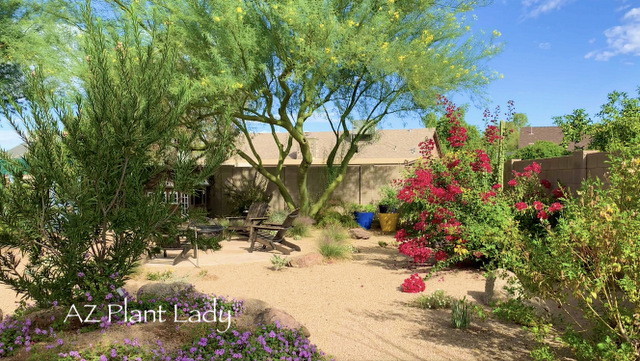 Do you have parts of your backyard landscape that you would like to change? 
Perhaps you have areas you like, but there are plants you are tired of or are struggling with.
I want to show you what I did in my backyard, where I blended both old and new elements.
First, a little history:
I was fairly happy with with the areas bordering the walls of the backyard. They are filled with colorful shrubs such as Bougainvillea, Coral Fountain, and Yellow Bells.
However, the center of my backyard space was dominated by a large lawn, which we had removed last year.
The decision to replace the grass was made with a focus on plants that I love and would blend well with the existing plants.
The focal point is a new flagstone seating area with Adirondack chairs arranged around a portable firepit. Around this area, boulders add height and texture. Angelita Daisy, Artichoke Agave, Blackfoot Daisy, and Pink Muhly grasses surround the seating area, which adds year-round color and texture.
In another area, a gentle mound stands planted with a 'Bubba' Desert Willow tree. Purple Trailing Lantana grows around the tree and will soon cover the entire mound in a mass of purple blooms.
At this point, the new plants are still rather small. However, plants grow quickly in the desert climate and, in another year, will soon reach their mature size.
The result? A backyard landscape where the new and old will blend seamlessly together.
I must admit that I am delighted with how it turned out. It took me a long time to decide what to do with this area – it is so much easier to design someone else's yard than your own.
I look forward to seeing it evolve and promise to share it with you 🙂
Progress! One-Year Post Desert Landscape Renovation

https://www.azplantlady.com/wp-content/uploads/2020/11/AZPL-Backyard-Landscape-Tour.jpg
361
640
arizonaplantlady@gmail.com
http://www.azplantlady.com/wp-content/uploads/2018/10/favicon.png
arizonaplantlady@gmail.com
2020-11-04 11:44:59
2020-12-13 04:34:58
Old and New Blend Together in My Backyard Landscape