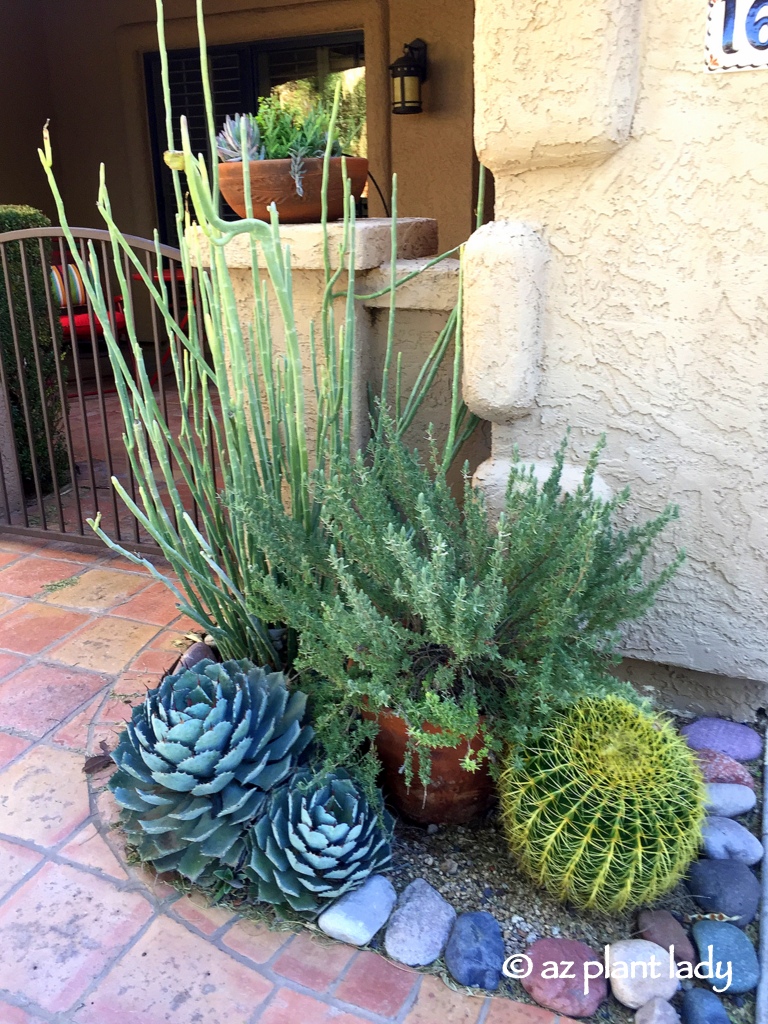 Does the idea of having to venture outside, when temperatures are above 100 degrees, to care for your garden have you thinking twice? I must admit that there have been times when I have let the plants in my landscape fend for themselves in summer after setting the irrigation controller. But, there is often a price to pay afterward when you have to play catch up with extra pruning and other maintenance.
There are however many different plants that thrive in summer with little fuss allowing you to enjoy the comforts of your air-conditioned home while viewing your beautiful garden through the windows. Here are some of my favorite fuss-free plants for the summer garden.
Mexican honeysuckle has lush green foliage and produces tubular orange flowers throughout the entire year. They do best in filtered shade and attract hummingbirds. I like to plant them underneath trees such as mesquite or palo verde.
Learn more about Mexican honeysuckle.
Artichoke agave is highly prized for its rosette shape, and it's easy to see where it got its name. The blue-gray color and maroon edges add great color contrast to the garden when it is placed alongside plants with dark and light-green foliage.
Of course, these are but one species of agave that would make a delightful, fuss-free addition to the summer garden. I also recommend cow's horn agave (Agave bovicornuta), smooth-edge agave (Agave desmettiana), and Victoria agave (Agave victoria–reginae) to name a few.
'Summertime Blue' is a delightful shrub that needs next to no maintenance throughout the year and decorates the garden with its bright green foliage and violet-blue flowers that appear spring through fall. It grows slowly but will reach approximately 6 feet tall and wide. If given enough room, it can go a year (or two) before needing pruning. While you may have to look around for a nursery that carries it, it's well worth the effort. It is also usually found at the Desert Botanical Garden's spring and fall plant sales.
Lady's Slipper is a uniquely shaped succulent with thornless stems that have a 'Medusa-like' growth habit that is more pronounced in light shade. The upright stems add a welcome vertical element to the landscape, and small orange flowers are produced off and on through spring and fall. They can be grown in containers or planted in the ground and do well in full sun or light shade.
Bush lantana is a familiar sight to many who live in arid climates like ours. This species of lantana is slightly different than the trailing gold and purple lantana. It has larger leaves, grows taller, and has multi-colored flowers that vary according to the variety. Bush lantana is a great choice for a colorful summer garden as they are seemingly heat-proof.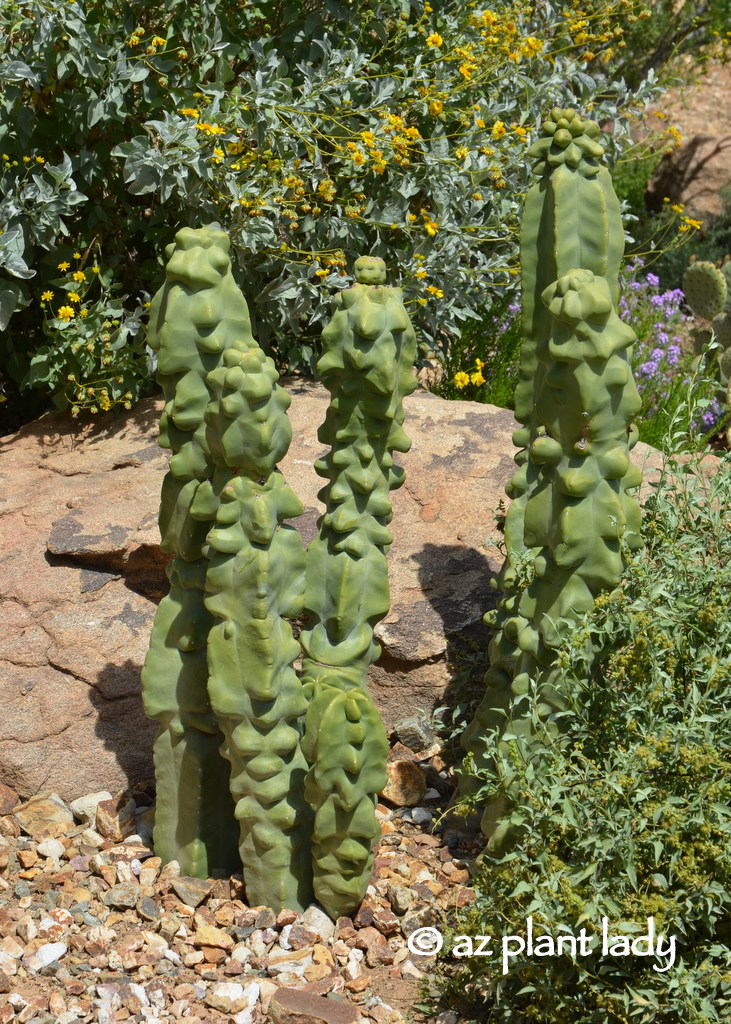 Totem Pole 'Monstrosus' (Lophocereus schottii 'Monstrosus')
Totem pole 'Monstrosus' has become quite a popular addition to the desert garden and it's easy to see why with its knobby shape. Another bonus is that they are almost always thornless, which makes them suitable for areas near entries or patios where a prickly cactus aren't welcome. Plant in full sun in a row for a contemporary look or place next to a boulder for a more natural appearance. 
Learn more about totem pole cactus.
'Heavenly Cloud' Texas sage is well worth adding to your landscape for its lovely purple blossoms that appear off and on throughout the warm season, often in response to increased humidity. All species of Texas sage do well in summer and can be nearly maintenance-free if allowed enough room to reach their 8 foot tall and wide size as well as left to grow into their natural shape. This particular species blooms more than the more common 'Green Cloud' Texas sage.   
Golden Barrel Cactus (Echinocactus grusonii)
Golden barrel cactus are wildly popular, and it is easy to see why with the globular shapes and yellow coloring. This cactus is quite versatile, able to grow in both sun and light shade. I like to use it in groups of three next to boulders or in a row. They also do well in containers planted singly or along with other succulents.
Learn more about golden barrel cactus.
Red bird-of-paradise is one of the most iconic flowering shrubs in the low desert regions of Arizona. Also known as mexican bird-of-paradise and royal poinciana, visitors marvel at their beautiful flowers in shades of orange, yellow, and red. The striking blossoms appear in late spring and last into early fall much to the delight of hummingbirds. There is nothing to do to care for them in summer other than to marvel at their beauty.
Learn more about red bird-of-paradise.
Red yucca has the appearance of an ornamental grass, but its leaves are succulent. Coral-colored flowers are borne aloft on tall stalks off and on spring through fall – there is also a yellow variety as well. They look great all year, even when not in flower and are well worth adding to your outdoor space.

Learn more about red yucca.

So if you are tired of having to prune and fertilize plants through summer, I invite you to try one of these 10 fuss-free summer plants.                          **Do you have a favorite fuss-free plant for summer?
//www.azplantlady.com/wp-content/uploads/2017/07/artichoke_agave_ladys_slipper_golden_barrel_succulents.28.jpg
1024
768
arizonaplantlady@gmail.com
//www.azplantlady.com/wp-content/uploads/2018/10/favicon.png
arizonaplantlady@gmail.com
2017-07-10 17:15:20
2017-07-10 17:19:50
10 Fuss-Free Plants for the Summer Garden
Have you ever driven by a newly-planted landscape? If you have, you probably noticed that many of the plants were quite small.
I like to joke that sometimes you need a magnifying glass just to see the new plants. But, within a short amount of time, those plants start to grow.
After three years or more, the plants are well-established and look great.
Fast forward five additional years, and you may start to see signs of some plants becoming overgrown and unattractive.
When this happens to shrubs, we can often push a 'restart button' and prune them back severely in spring, and that solves the problem. However, there are some plants where this approach doesn't work.
Let's identify a few of these plants and how to deal with them once they outgrow their allotted space or become filled with old, woody growth.
Desert Spoon (Dasylirion wheeleri)
Desert spoon is one of my favorite plants. I love how its blue-gray, spiky leaves add texture to the garden and contrast with plants that have darker green foliage.
After ten years or more in the landscape, desert spoon can start to take on a ragged, rather unattractive appearance, as well as grow quite large.
When this happens, I recommend that they be removed and a new desert spoon planted in its place.
Now, some of you may think that may seem wasteful, but I invite you to take another look at your landscape and the plants within it.
Your outdoor space isn't static and unchanging. Its appearance changes with the seasons, plants blooms at different times of year, trees extend the amount of shade they provide as they grow, and plants change in size.
A newly planted garden doesn't look the same through the years, it changes.
Trailing Rosemary (Rosmarinus officinalis 'Prostratus')
Rosemary is a good choice for those who want rich, dark green color in the garden. Bees love the light blue flowers that appear in late winter and spring, and the aromatic foliage can be used to flavor your favorite dishes.
But, as time passes, it does get bigger, outgrowing its original space.
When this happens, people start to shear their rosemary, which is stressful for the plant and contributes to sections of branches dying.
For those who don't like the formal look, pruning rosemary back severely would be a likely choice. But, the problem with rosemary is that they often don't respond well to severe pruning.
So again, in this case, it's best to pull out the old rosemary and add a new one, which will provide beauty for several years.
Rosemary hedge
To avoid having to remove and replace rosemary, allow them plenty of room to grow to their mature size.
Red Yucca (Hesperaloe parviflora)
Red yucca is prized for its succulent, green leaves that resemble an ornamental grass and its coral flowers, which appear spring through fall.
Once it has been growing seven years or more, red yucca may overwhelm the landscape visually, particularly if the area it is growing in isn't very big.
Occasionally, some people will try to remove the outer leaves at the base, but this is laborious and only serves to stimulate red yucca to grow back faster.
In those situations, I tell people that they have had a nice life, but it's time to start over with new ones.
Newly-planted red yucca
The question that may come to mind is why use plants that you'll only have to replace after seven to ten years?
Well, all three of these plants add beauty to the landscape and are low-maintenance. Another way to think of it is to compare your landscape with the interior of your home. Do you make small changes to the decor of your home every few years to keep it looking fresh and attractive? The same should be true of the outside.
Replacing a few plants after seven years or more isn't expensive, and the beauty that these plants offer to your outdoor space makes them worth it.

//www.azplantlady.com/wp-content/uploads/2016/10/Johnsonfrontyard.jpg
353
640
arizonaplantlady@gmail.com
//www.azplantlady.com/wp-content/uploads/2018/10/favicon.png
arizonaplantlady@gmail.com
2016-10-04 19:14:00
2016-10-26 14:35:20
Old, Overgrown Plants: Time to Start Over?