When people think about what a desert garden looks like, what comes to mind? Perhaps, visions of lots of brown with rocks and a cactus or two? Maybe visions of mostly brown terrain with scattered rocks and a couple of cacti? But in reality, the possibilities for colorful plants for the desert garden are far greater. Picture a vibrant landscape adorned with the entire spectrum of colors – from varying hues of red, orange, and purple to shades of pink and yellow.
I'm excited to introduce you to eight vividly colorful plants flourishing within my desert garden. All are vibrantly colorful and thrive in a hot, dry climate:
Colorful Plants for the Desert Garden
The Best List of Colorful Plants for the Desert Garden

Bougainvillea – Bougainvillea 'Barbara Karst'
You can't beat Bougainvillea for the vibrant color in the garden. It thrives in our dry, hot climate and flowers off and on spring through fall. Record-breaking heat doesn't bother it in the least. Its resilience makes it a prime candidate for covering walls and facing challenging western exposures. For maximum flowering, they need to be in full sun. For those that don't like the messy flowers, you can opt for dwarf varieties or plant one in a large pot, which will limit its size.
Hardy to 20 degrees F. Plant in full sun for optimal flowering.
Coral Fountain – Russelia equisetiformis
Often referred to as Firecracker Bush, this resilient plant is a colorful plant for a desert garden. It is a tropical beauty has a lovely cascading growth habit. Arching stems produce orange/red tubular flowers that delight hummingbirds. Blooming occurs spring through fall. This shrub takes a year or two before really taking off, but it's worth the wait – I like to use them in groups of 3 to 5. It is also a good choice for adding to large containers – especially blue ones!
Cold hardy to 10 degrees F. Plant in full sun.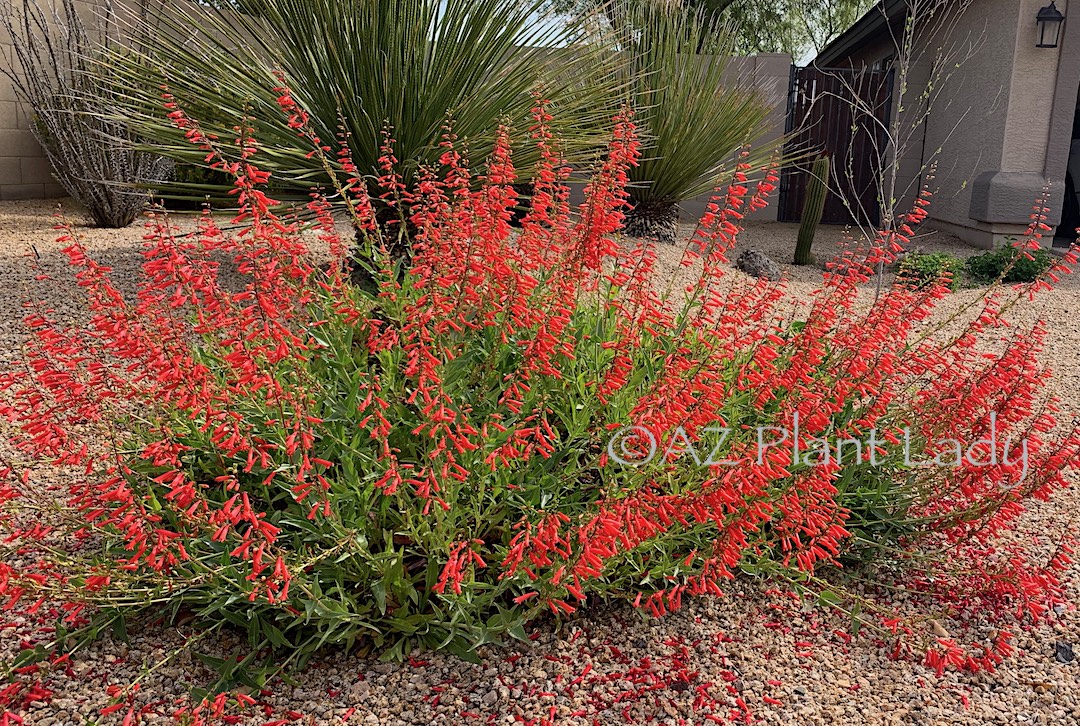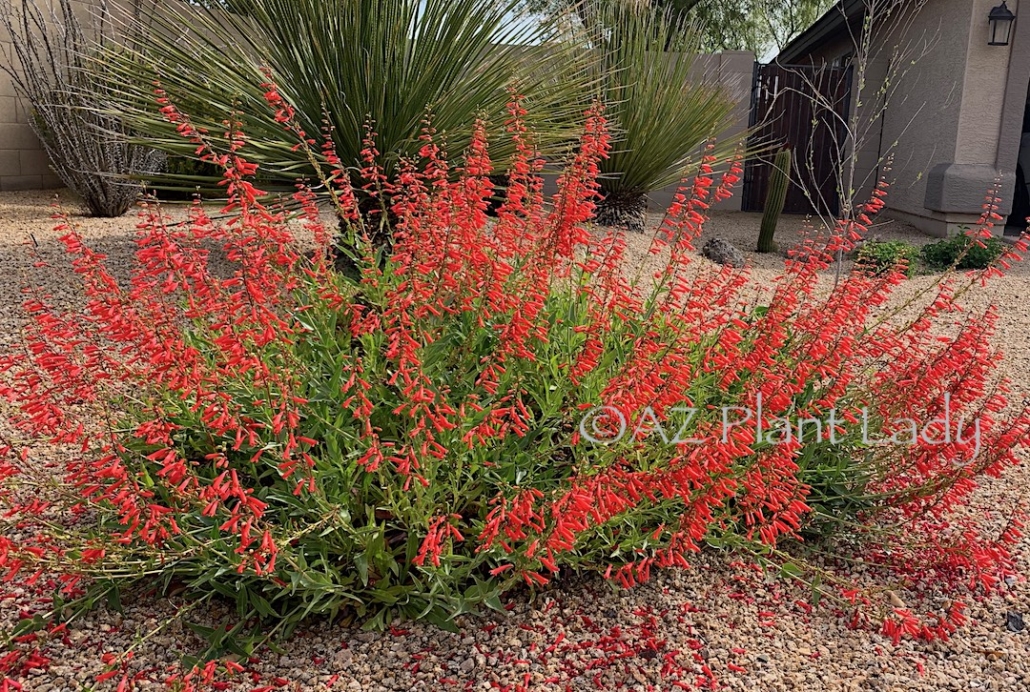 Firecracker Penstemon – Penstemon eatoni
Winter color is often lacking in desert gardens. However, there are many colorful plants for a desert garden that offer color through winter. This western native is my favorite during winter and spring in my front garden when it burst forth with brilliant orange/red blooms. Hummingbirds really enjoy the blooms as there aren't many other plants for them to feed on this time of year. Prune off spent flowering stalks once the flowers begin to drop and you may get another flush of blooms to extend the season. It can be hard to find Firecracker Penstemon in box stores but local nurseries usually carry them.
Hardy to -20 degrees F. Plant in full sun.
Yellow Bells – Tecoma stans var. stans
Admittedly, there are many yellow-flowering plants in the desert, but this one is my favorite! I look forward to the gorgeous yellow blooms opening each spring in my back garden. Yellow bells bloom spring through fall,and hummingbirds are attracted to their flowers. They are fast growers and have lovely, lush green foliage. To keep them looking their best, prune them back severely to 1-2 feet tall once the threat of frost has passed in spring. There are several notable varieties of Yellow Bells in shades of orange including 'Crimson Flare' and 'Sparky'.
Hardy to 10 degrees F. Plant in full sun to filtered sun.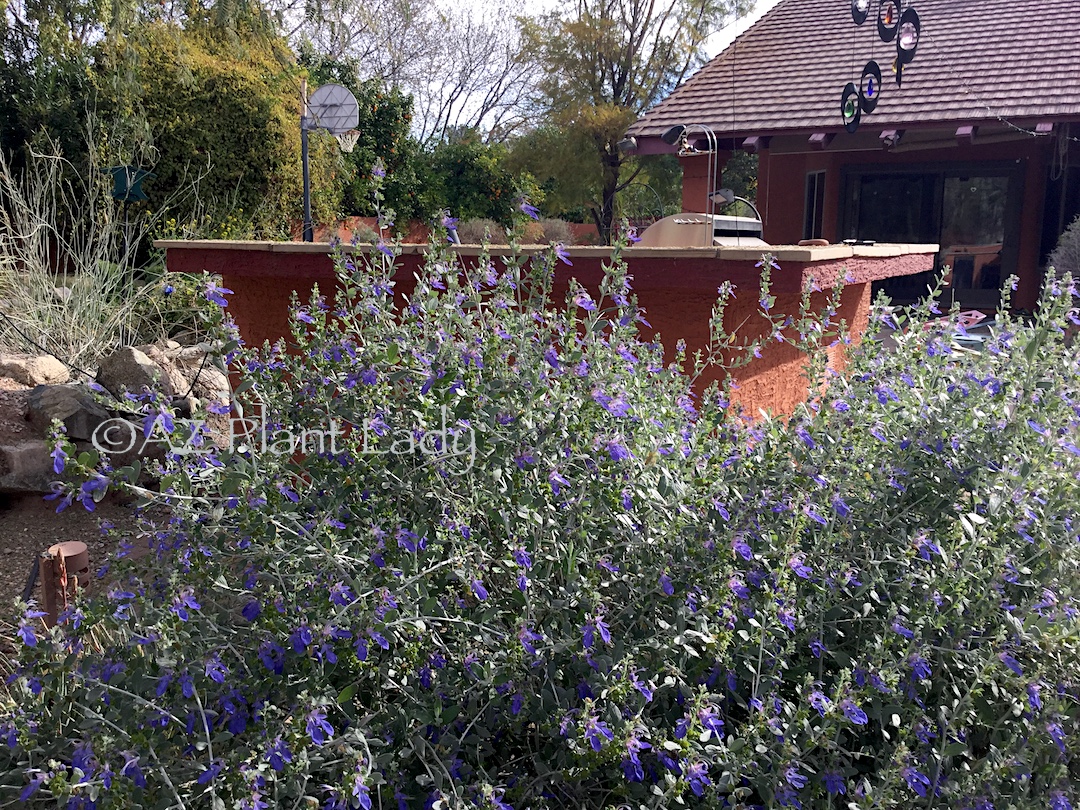 Shrubby Germander – Teucrium fruticans 'Azurea'
Photos don't do this Mediterranean native justice. When viewed in person, people are immediately transfixed by the light-blue flowers (they appear more purple in photos), which appear in spring. I have several scattered throughout my back garden, and for me, they bloom throughout winter too! Using plants with silver-gray foliage near those with darker green leaves is a great way to add interest to the landscape, even when not in flower. I dearly love this shrub for its colorful winter/spring blooms in my desert garden.
Hardy to 10 degrees F. Plant in filtered sun.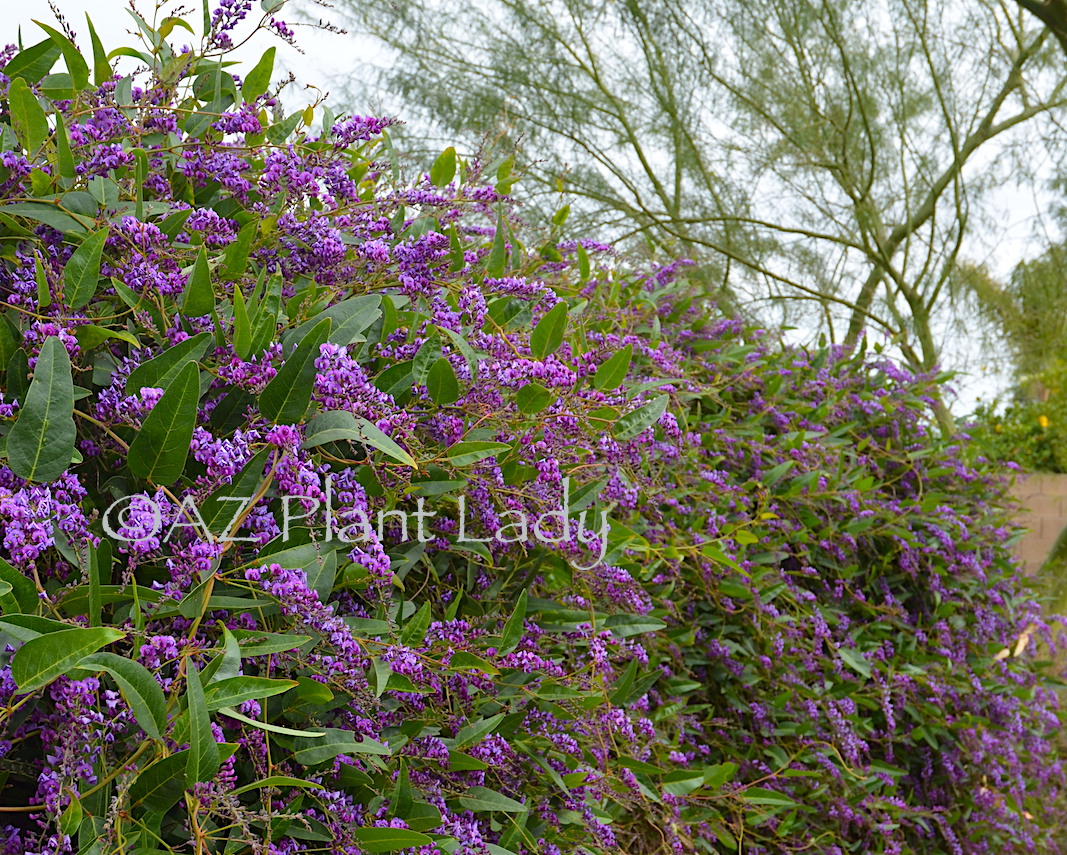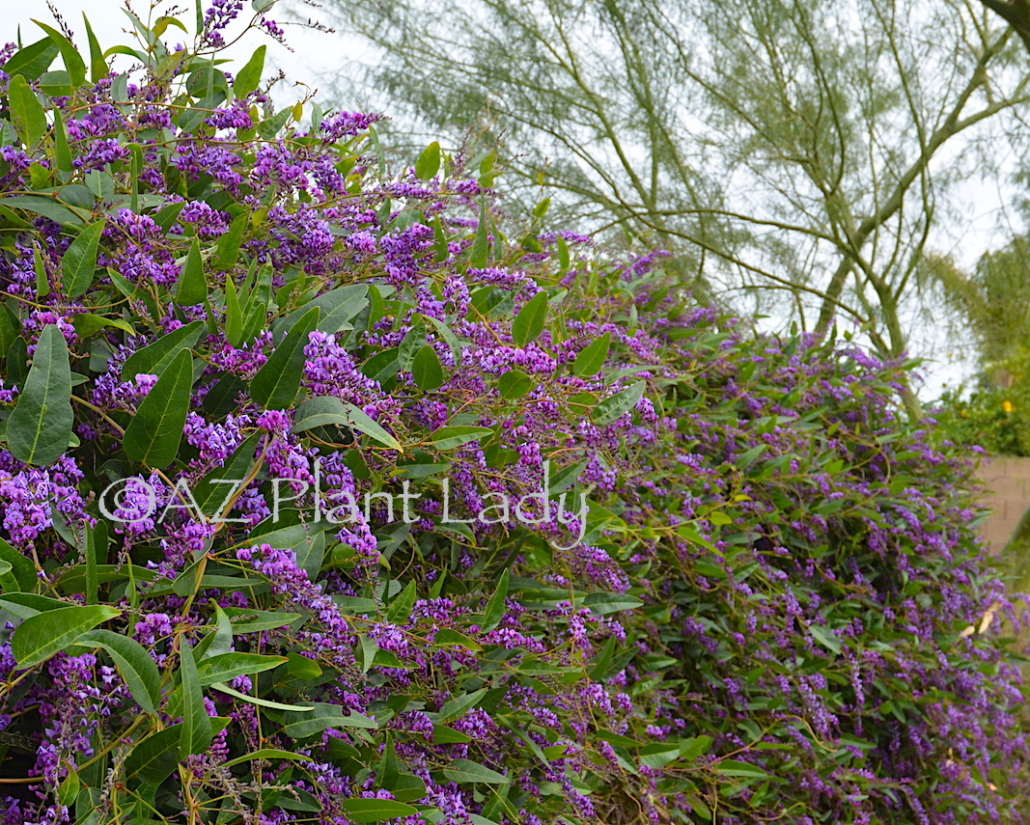 Purple Lilac Vine – Hardenbergia violaceae
Here is another winter-flowering beauty. Purple flowers cover this vine from February into early March. Believe me when I say that they are a welcome relief to the winter blahs. Bees enjoy the blooms, which resemble lilacs but aren't fragrant. It does require a trellis or other support to grow up on. When not in bloom, its attractive foliage adds a welcome splash of green throughout the year on vertical surfaces. The Purple Lilac vine is a very colorful plant for a desert garden and can be found in nurseries in fall and winter, during its flowering season.
Hardy to 20-25 degrees F. Plant in full to the filtered sun but avoid west-facing exposures.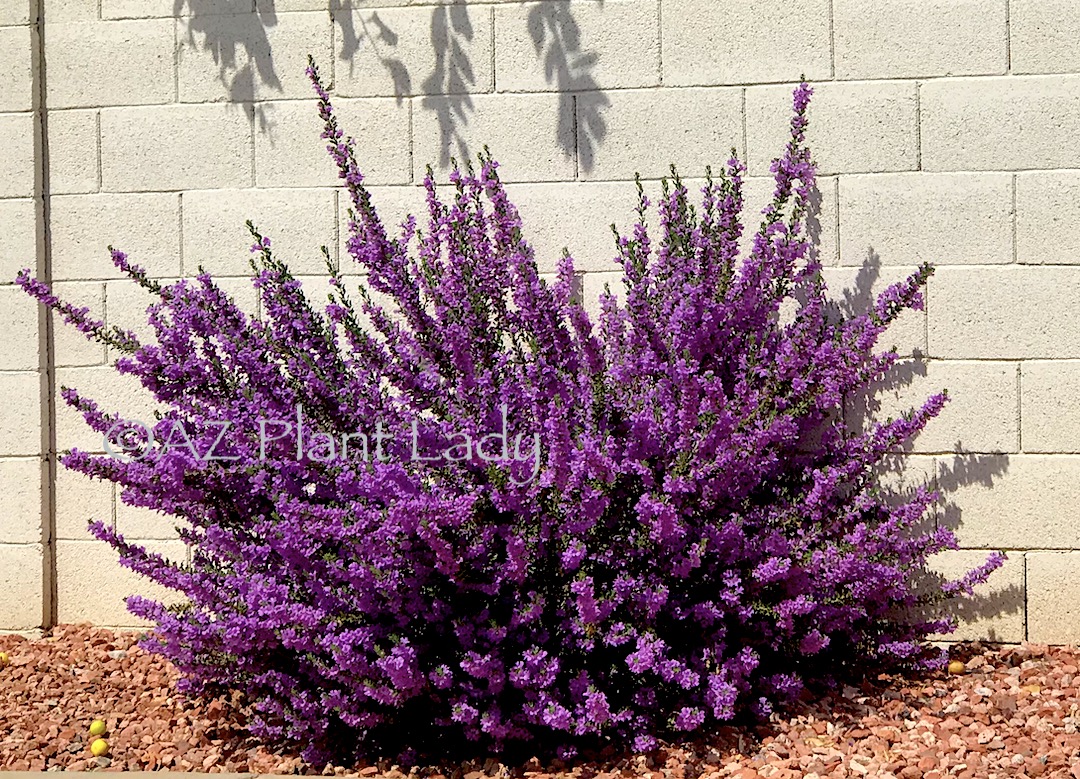 'Rio Bravo' Texas Sage – Leucophyllum langmaniae 'Rio Bravo'
If you love the color purple, you'll want to include this variety of Texas Sage in your garden. Branches covered in masses of purple flowers appear off and on spring through fall, often in response to periods of increased humidity. The more humidity, the more flowers produced. There are many different types of Texas Sage and all add color to the desert garden. Now, you may not see them looking like this for the sad fact that many people prune them into unnatural shapes like balls, cupcakes, and even squares. Which would you rather have – a green 'blob' or a gorgeous purple beauty like this?
Hardy to 10 degrees F. Plant in full sun for maximum flowering.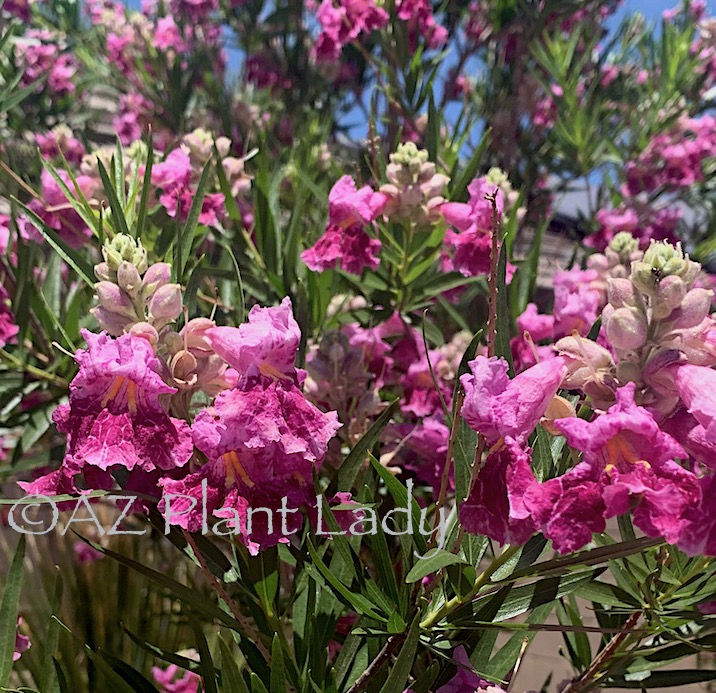 Desert Willow – Chilopsis linearis
I want to include a tree in our list of colorful plants for the desert garden. Desert Willow is small to medium-sized tree that are native to the Southwest. Throughout the warm season, branches with bright green leaves are covered with pink blooms. The flowers add a lovely shade of pink, which is a color not always seen in the desert. There are many newer varieties of Desert Willow – I have four different ones in my garden, but 'Bubba' is my favorite. This is a deciduous tree and will lose its leaves in winter.
Hardy to -10 degrees. Plant in full sun.
SO, where can you find these plants?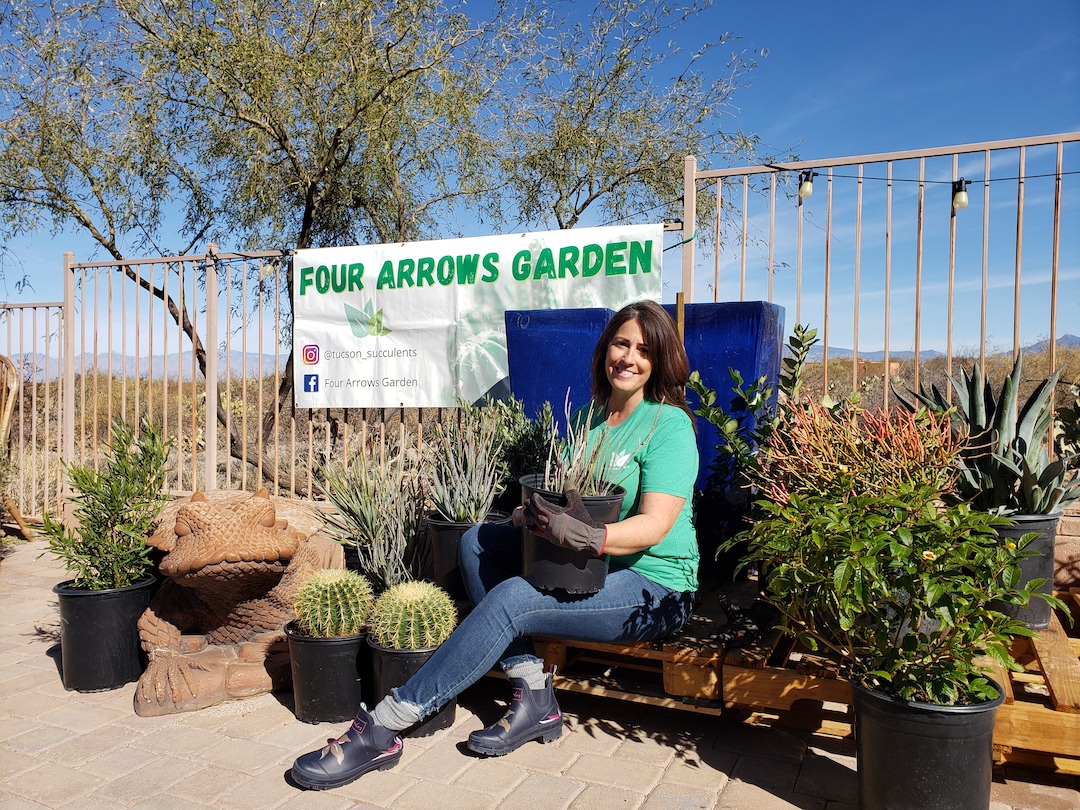 Where to Buy Colorful Plants for the Desert Garden
I am often asked where is the best place to buy plants. Yes, you can head to your big box store, but they usually lack variety and are known to sell plants that don't do well in our hot, dry climate.
My advice is to look to your local garden center and nursery for these and other plants for your garden.
This is a Fantastic Desert Nursery
I'd like to share with you about a new nursery that is mixing things up in a good way! Four Arrows Garden is a family business, located in Vail, AZ, where you order your plants online and they deliver them to you!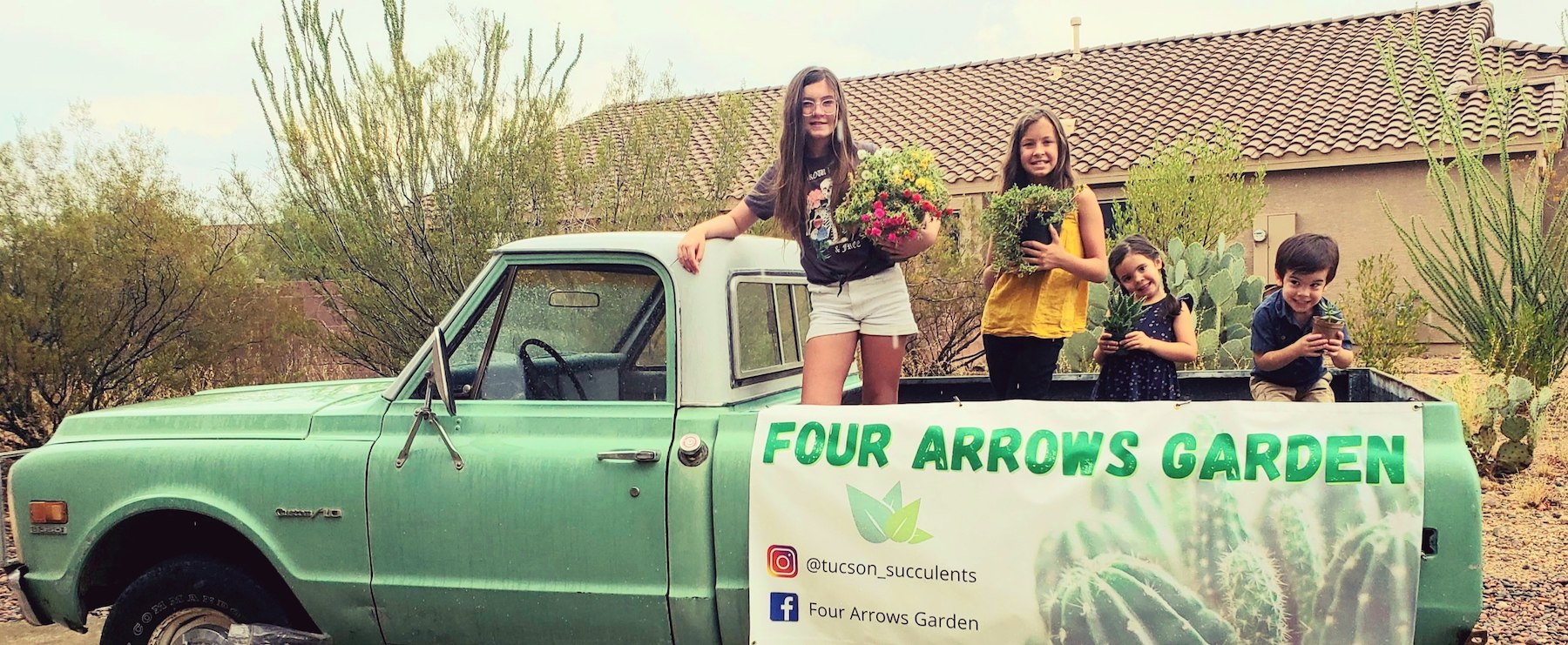 The Chavez family began their business with cuttings from succulents in their backyard that soon grew to people wanting them to offer other types of plants. She explains their unique nursery, "Our business model has changed over the year to fill the need in our community. We have transformed into "not your average nursery" because of a niche market to deliver landscape plants and creating an online shopping outlet for desert-adapted plants. We are different because we allow customers to shop for plants from the comfort of their homes."
This Nursery Has Special Desert Plants
They source their plants from wholesale growers in the Phoenix and Tucson area. While their delivery area is primarily in the greater Tucson area, They can accept special requests from Phoenix area customers.
I encourage you to incorporate colorful plants within your desert garden to improve your curb appeal and your enjoyment of your outdoor space. Local nurseries are the best sources for these plants. If you are in the Tucson area, visit Four Arrows Garden's online nursery to make your special order and they will deliver it to your door. Check them out on Facebook where Linsay keeps you updated on the latest plants available!
*Disclosure: This post has been sponsored by Four Arrows Garden. My opinions and advice are my own.

https://www.azplantlady.com/wp-content/uploads/2021/06/coral_fountain_firecracker_bush_russelia_equisetiformis_arizona-copy.jpg
810
1080
arizonaplantlady@gmail.com
http://www.azplantlady.com/wp-content/uploads/2018/10/favicon.png
arizonaplantlady@gmail.com
2021-06-21 07:26:00
2023-08-24 17:00:50
8 Colorful Plants for the Desert Garden and Where to Find Them