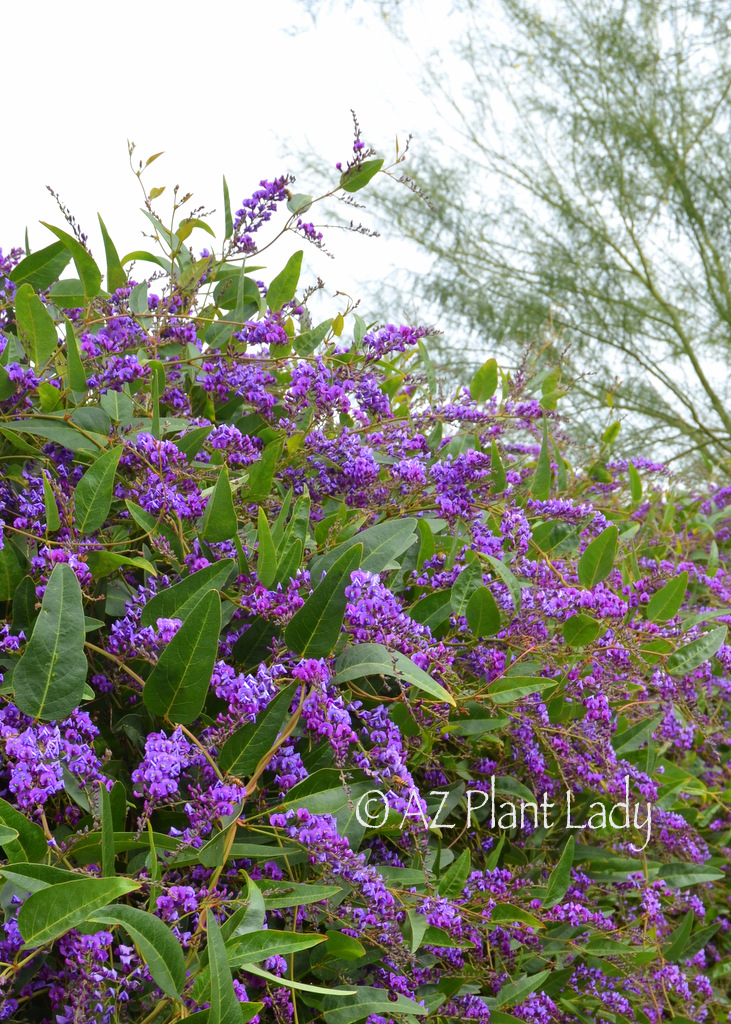 Purple lilac vine
Discovering the Beauty of the Purple Lilac Vine (Hardenbergia violacea)
In the midst of a colorless winter garden, a burst of vibrant beauty can be a delightful surprise. Explore the wonders of this wonderful purple vine, a lesser-known gem that thrives in the desert garden.
Embracing the Lilac Vine's Versatility
Welcome to the world of the purple lilac vine (Hardenbergia violacea), an Australian native cherished for its unique charm. While it's not a true lilac, it serves as a wonderful substitute in regions like the low desert where traditional lilacs struggle to grow. Regular irrigation is important.
A Versatile Beauty
This versatile vine can be employed in various ways in your desert southwest garden. Traditionally used as a vine, it can also shine as a ground cover, as my experience from over 20 years ago demonstrated. Its adaptability is one of its key strengths.
Blooming in the Heart of Winter
One of the most remarkable attributes of the lilac vine is its winter bloom. In zone 9 gardens, February brings forth a profusion of gorgeous purple flowers, adding a touch of elegance when little else is in bloom.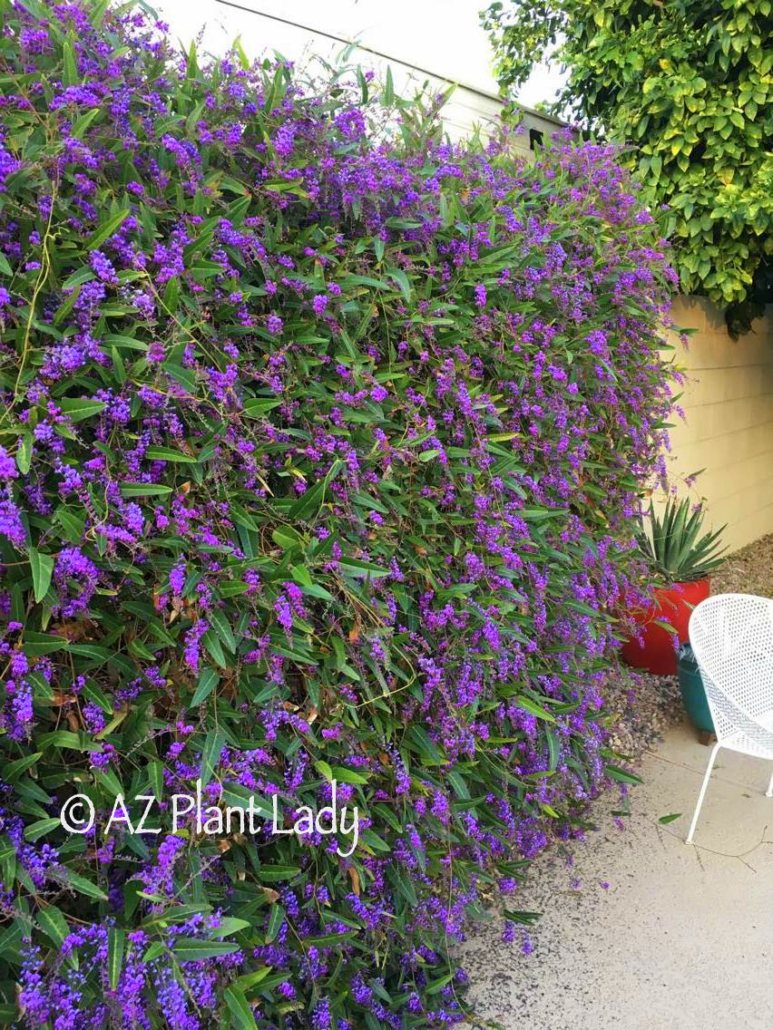 Isn't it beautiful?
This Australian native is known by different common names with lilac vine (Hardenbergia violacea) being commonly used in our area of the Southwest.
It is not actually a lilac, but because we cannot grow lilacs in the low desert, this is a wonderful substitute.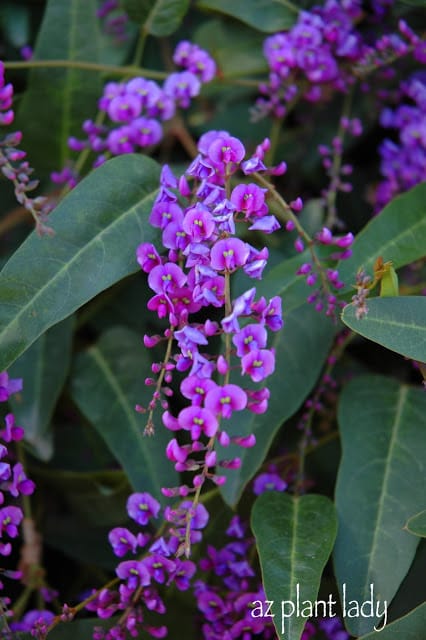 My first experience using Purple Lilac was over 20 years ago when I used it in a feature area on one of the golf courses I worked for.
Although traditionally used as a vine, I used it as a ground cover; believe it or not, it did beautifully.
One of the best attributes of this vine is that it blooms during the winter month of February in our zone 9 gardens.
Now be honest, there is not much going on in your garden in winter, is there? Wouldn't it be great to have gorgeous purple flowers blooming when little else is?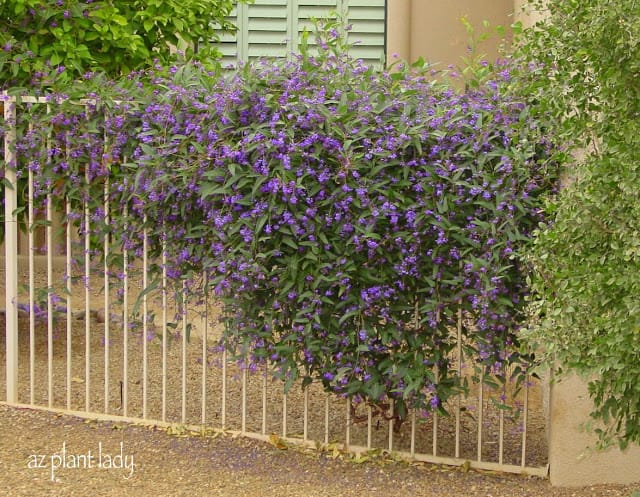 Reasons to Welcome this Winter Vine
Here are more reasons to consider introducing this lovely vine into your garden:
Winter Blossoms: Brighten up your garden during the colder months.
Year-Round Attractiveness: Even when not in bloom, the vine boasts appealing foliage.
Low Maintenance: Minimal care required; occasional pruning for size control and little need for supplemental fertilizer.
Vertical Growth: It thrives when provided with a trellis or support structure.
Ideal Placement: East or south-facing areas are especially suitable for this vine.
Hardiness: Hardy to USDA Zone 9, it withstands typical winter temperatures but may suffer frost damage in the upper 20s°F.
Under normal winter temperatures, it doesn't suffer frost damage.
Purple Lilac Vine Has Useful Appeal
The vine isn't just about looks. It can serve as a decorative asset, transforming bare walls and concealing unattractive views with its lush foliage and vibrant blooms.
When people ask me if I recommend a particular plant, I tell them that the highest recommendation that I can give is is if I have that plant growing in my garden.
I do not have the patience to grow a plant that struggles and/or takes too much maintenance. It also has to look beautiful most of the year.
So if you ask me if I truly like this vine, I answer by saying that I have four growing in my backyard 🙂
Sourcing Your Purple Lilac Vine
While some may struggle to find this vine in local nurseries, fret not. Most nurseries typically stock them when they're in full flower during the winter. It's important to note that while the flowers resemble lilacs, they may not be strongly fragrant. However, their sheer beauty makes up for any lack of fragrance.
Discover the magic of this wonderful vine and infuse your winter garden with a burst of captivating color and charm. Happy gardening!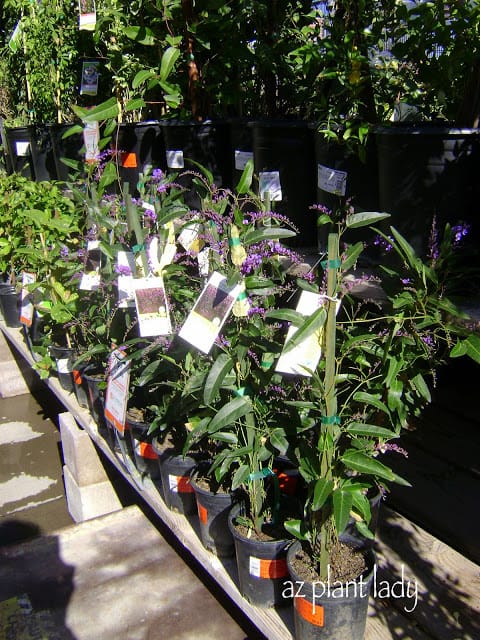 https://www.azplantlady.com/wp-content/uploads/2011/02/Hardenbergia.jpg
640
640
arizonaplantlady@gmail.com
http://www.azplantlady.com/wp-content/uploads/2018/10/favicon.png
arizonaplantlady@gmail.com
2023-02-15 10:49:40
2023-09-01 13:26:05
A Lilac for the Desert? Another Great Lesser-Known Plant to Try