Natural Beauty Without The Fuss – Queen's Wreath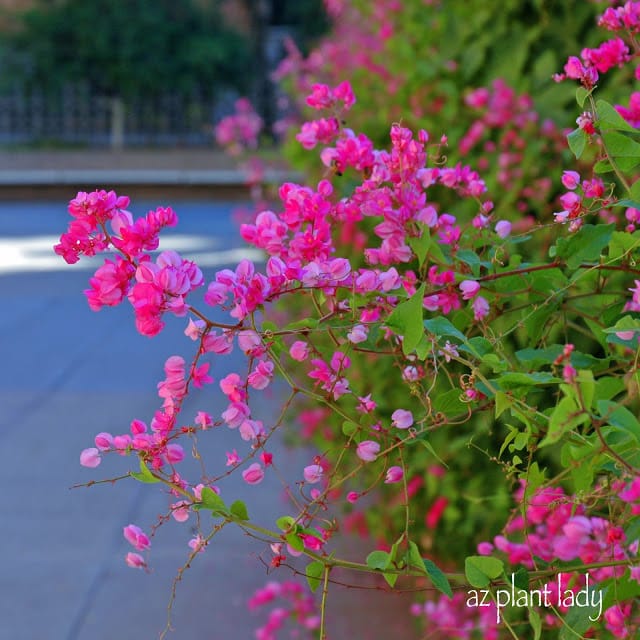 Who doesn't like 'natural beauty'? I have a renewed appreciation for my 'natural beauties' out in the garden during the summer months. Now, I realize that there are some who do enjoy the satisfaction of working hard with their plants and being rewarded with a beautiful display and I think that is great. But for me, the last thing I want to do is have to fuss over a plant in the middle of the summer heat so that it will look beautiful for me. I would much rather enjoy the 'natural beauty' of my summer plants looking through the windows from the comfort of my air-conditioned home.
Earlier this summer, I wrote about one of my favorite 'natural beauties' in the garden, Yellow Bells. Today, I would like to introduce you to one of my favorite summer vines which is a wonderful example of 'natural beauty.'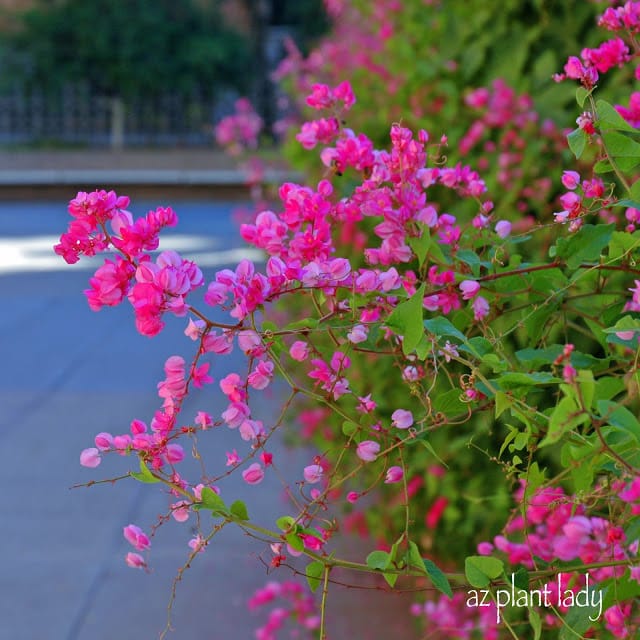 Queen's Wreath vines grace the Arizona State University campus.
Queen Wreath Vine (Antigonon leptopus) is a colorful asset to my garden. This 'natural beauty' is a vine that is native to Mexico and Central America. Stunning pink sprays of flowers appear in spring and last until the first frost. *In tropical areas, it can be considered invasive, but here in the desert, it is easily managed.
In our desert climate, they do require supplemental water, but no fertilizer is needed. Bees are attracted to the beautiful flowers, and I love the pretty heart-shaped leaves.
A wall of Queen's Wreath Vine at ASU
Queen's Wreath is a robust vine. It can grow in full sun including areas of reflected heat. It will also grow in light shade although flowering will be reduced.
The only maintenance required in my garden is pruning it back in winter once it dies back after the first frost. However the roots are hardy to 20 degrees F, and in the spring, it quickly grows back with a trellis, fence or an arbor for support.
**My first experience with queen's wreath was in our first home in Phoenix, where there was a support made up of twine tied between two palm trees. We had no idea why it was there, but it sure looked ugly. Well, before we had time to remove the twine, beautiful, light green, heart-shaped leaves began climbing up the support and quickly covered it. Gorgeous sprays of pink flowers rapidly followed, which was a pleasant surprise.
What natural beauties are enjoying in your garden this month?
I will be sharing another favorite 'natural beauty' from my garden soon.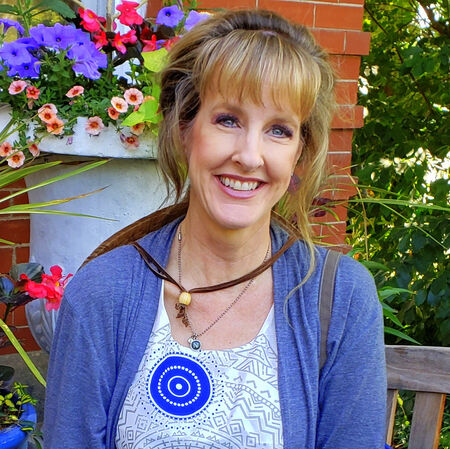 Noelle Johnson, aka, 'AZ Plant Lady' is a author, horticulturist, and landscape consultant who helps people learn how to create, grow, and maintain beautiful desert gardens that thrive in a hot, dry climate. She does this through her
consulting services
, her online class
Desert Gardening 101
, and her monthly membership club,
Through the Garden Gate
. As she likes to tell desert-dwellers, "Gardening in the desert isn't hard, but it is different."
https://www.azplantlady.com/wp-content/uploads/2010/07/Antigonon-leptopus-flowers-6.jpg
640
640
arizonaplantlady@gmail.com
http://www.azplantlady.com/wp-content/uploads/2018/10/favicon.png
arizonaplantlady@gmail.com
2010-07-12 19:27:00
2021-02-22 07:25:19
Natural Beauty Without The Fuss – Queen's Wreath