Summer's Delight: Roasted Sweet Corn and BBQ
When the sun shines brightly and the aroma of barbecue wafts through the air, you know summer has arrived. But for me, nothing quite captures the essence of this season like the taste of sweet corn. For the past three summers, I've reveled in the joy of growing my own sweet corn, and this year promises to be just as delightful.
A Season of Growth and Anticipation
As the days grow longer and the temperatures rise, there's a remarkable transformation happening in my backyard. It begins with the sprouting of the corn stalks, their vibrant green leaves reaching for the sky. Then, the first delicate appearance of corn silk marks the beginning of a mouthwatering countdown to the ultimate summer treat: fresh-roasted corn on the cob.
Easy Cultivation, Easier Cooking
Growing sweet corn is not only a rewarding experience but also surprisingly easy. However, the real magic happens when you turn those homegrown cobs into a delectable dish. In my quest for a simpler and tastier way to cook corn, I stumbled upon a game-changing roasted corn recipe that eliminates the need for boiling water and shucking corn ahead of time. The best part? It imparts a delicious, roasted flavor that will have your taste buds dancing with joy.
Instructions:
The Roasted Corn Recipe
Let's dive right into it – here's how you can effortlessly prepare Oven Roasted Corn on the Cob:
Ingredients:
Fresh ears of corn (with husks still on)
Preheat your oven: Begin by preheating your oven to a toasty 350 degrees Fahrenheit (175 degrees Celsius).
Prepare the corn: Take your whole ears of corn, ensuring that the husks are still on, and place them directly on your oven rack. This step is a game-changer because it allows the corn to roast within its natural protective casing.
Bake to perfection: Slide your corn-laden oven rack into the preheated oven and let them bake for approximately 30 minutes. You'll be amazed at how this short time span is all it takes to fully cook your corn to perfection.
Unveil the golden treasure: Once the timer goes off, carefully remove the corn from the oven. Then, with gentle hands, pull down the husks. As if by magic, the corn silk will come off easily, leaving you with pristine, golden kernels.
Ready to enjoy: To add the final touch of charm to this delightful dish, use the peeled husks as convenient handles for eating your corn. It's both practical and visually appealing, making every bite a summer sensation.
Roasted Corn Recipe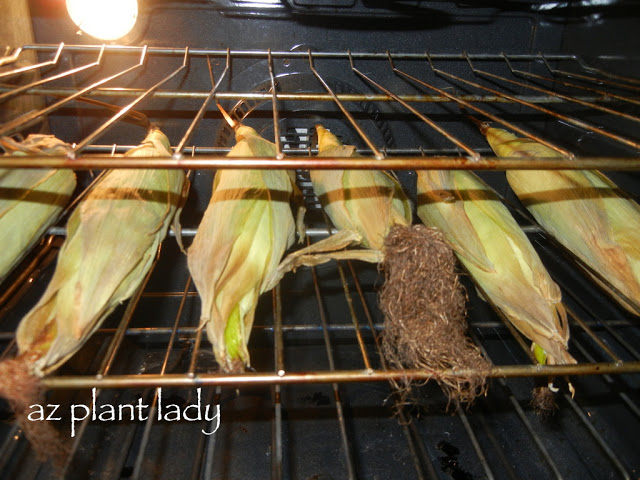 Roasted Corn Recipe
There you have it – a fuss-free and incredibly satisfying way to prepare fresh-roasted corn on the cob. It doesn't get much easier or tastier than this!
Roasted Corn Recipe
Summertime Roasted Corn Bliss
As you revel in the simple pleasures of summer, remember that the joy of growing your own sweet corn can be elevated to new heights with the right recipe. This Oven Roasted Corn on the Cob is not only a time-saver but also a flavor enhancer that will make your summer gatherings truly memorable.
So, fire up that oven, embrace the beauty of your homegrown corn, and savor the flavors of the season with this mouthwatering roasted corn recipe.
It doesn't get much easier than that, does it?
New Vegetable Garden Finally Finished!

https://www.azplantlady.com/wp-content/uploads/2012/06/DSC_002209-1.jpg
640
400
arizonaplantlady@gmail.com
http://www.azplantlady.com/wp-content/uploads/2018/10/favicon.png
arizonaplantlady@gmail.com
2012-06-15 19:13:00
2023-09-18 14:33:00
Savoring the Flavors of Summer: A Mouthwatering Roasted Corn Recipe