Arizona Road Trip: Sweet potato vine trail underneath a planting of lantana and 'Victoria Blue' salvia.
I've spent a busy week on the road traveling back and forth throughout the central and northern parts of Arizona.
While my road trips were for pleasure, there were some work elements involved, viewing the newest trends of high desert landscaping, and taking photos of pretty plants.
Arizona Road Trip: Planters filled with green and black sweet potato vines trail over the railing at Tlaquepaque with Mark Twan (Samuel Clemens) sitting underneath.
During the first part of the week, I spent a few days in Sedona. This colorful, high desert town holds a special place in my heart. It is where my husband and I spent our honeymoon, and we make a point of coming back up to visit every few years.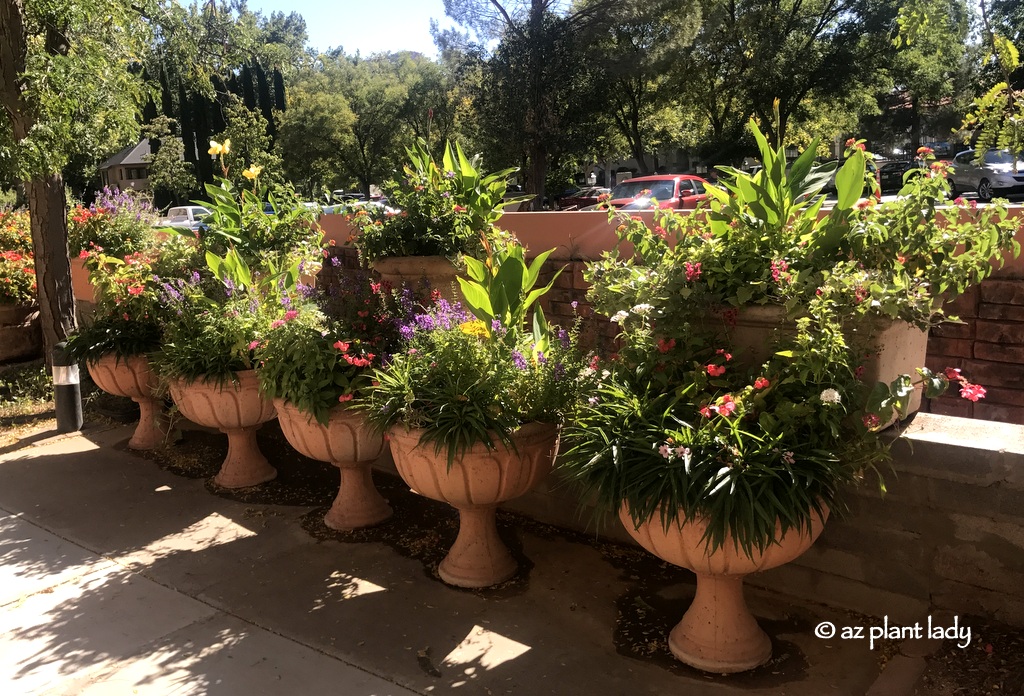 A must stop destination for us are the shops are Tlaquepaque, which is modeled after an old Mexican village. Fountains and courtyards are scattered throughout the stores, inviting visitors to sit and enjoy the dappled shade while listening to the gentle sounds of water features.
To be honest, I do enjoy perusing the galleries and shops, but the main draw for me is the beautiful container plantings. Sweet potato vine, lantana, 'Katie' ruellia, and salvia are artfully arranged within the containers.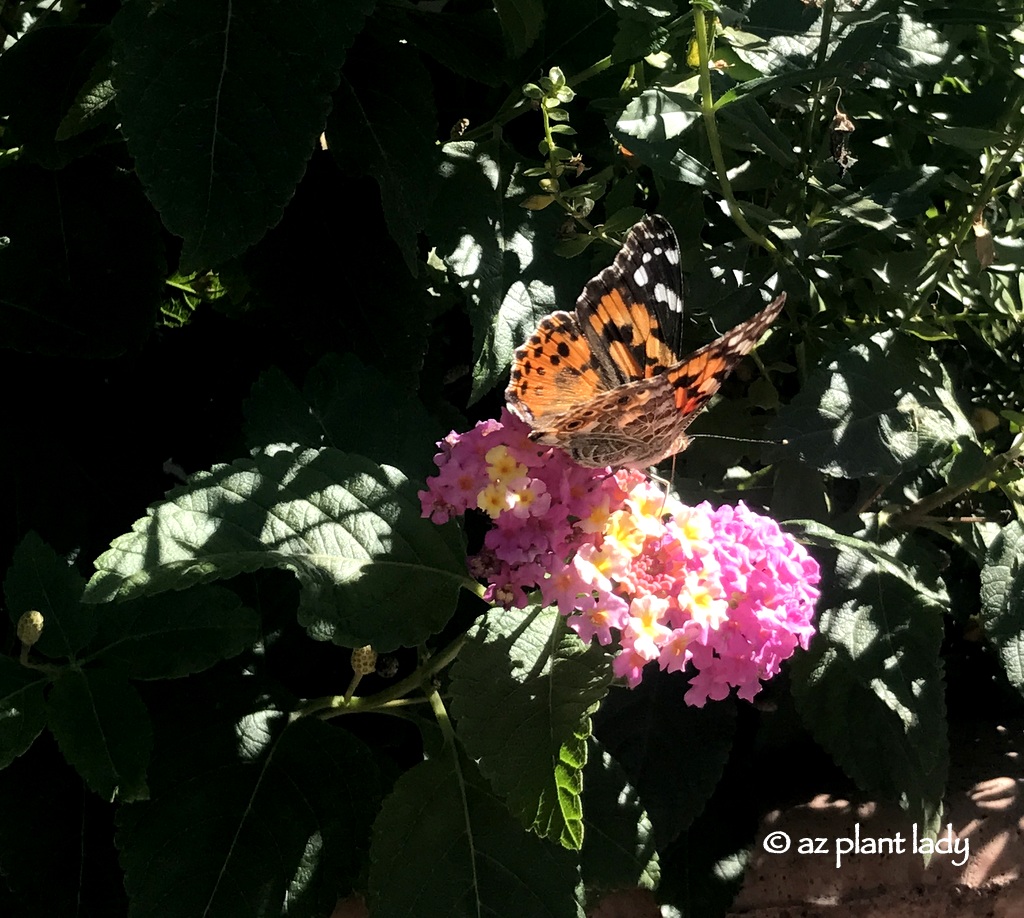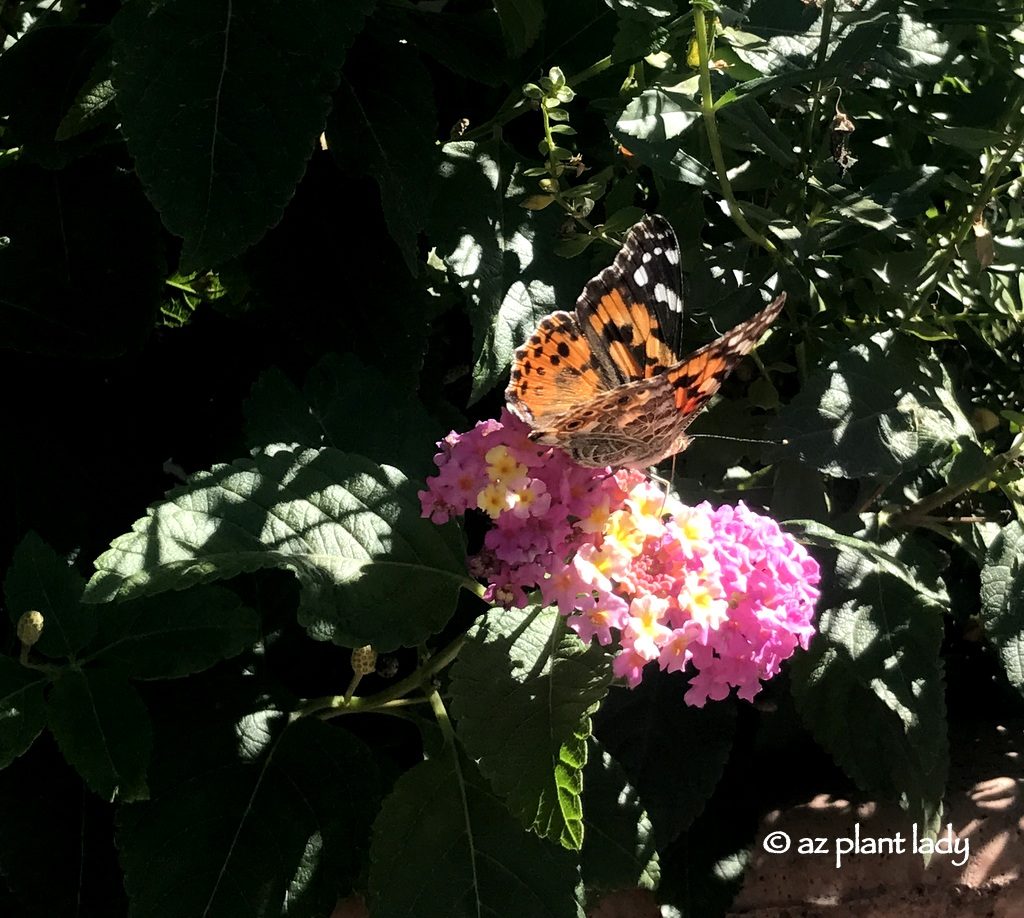 A 'Painted Lady' butterfly drinking nectar from a lantana.
Butterflies and hummingbirds are also frequent visitors to Tlaquepaque.
Area hotels also feature lovely examples of plants that thrive in the dry heat like the trumpet vine and yucca, above.
While in Sedona, we made side trips to Flagstaff and Cottonwood before it was time to travel back home.
After one night home, it was back into the car and off on another journey. This time, we brought our kids with us for a destination wedding in Skull Valley, which is a half hour outside of Prescott.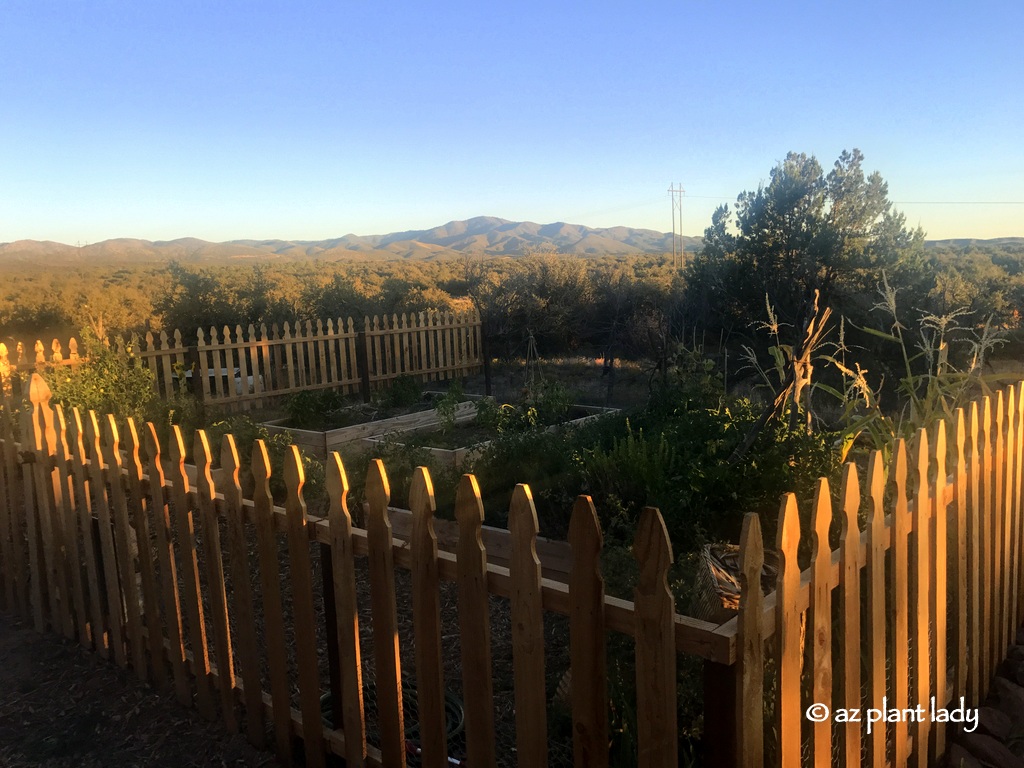 The wedding was held in the middle of the wilderness, reached by traveling over 20 minutes on a curving, unpaved road. Wildlife was plentiful as we spotted a coyote, deer, and a roadrunner, while also smelling a skunk along the way.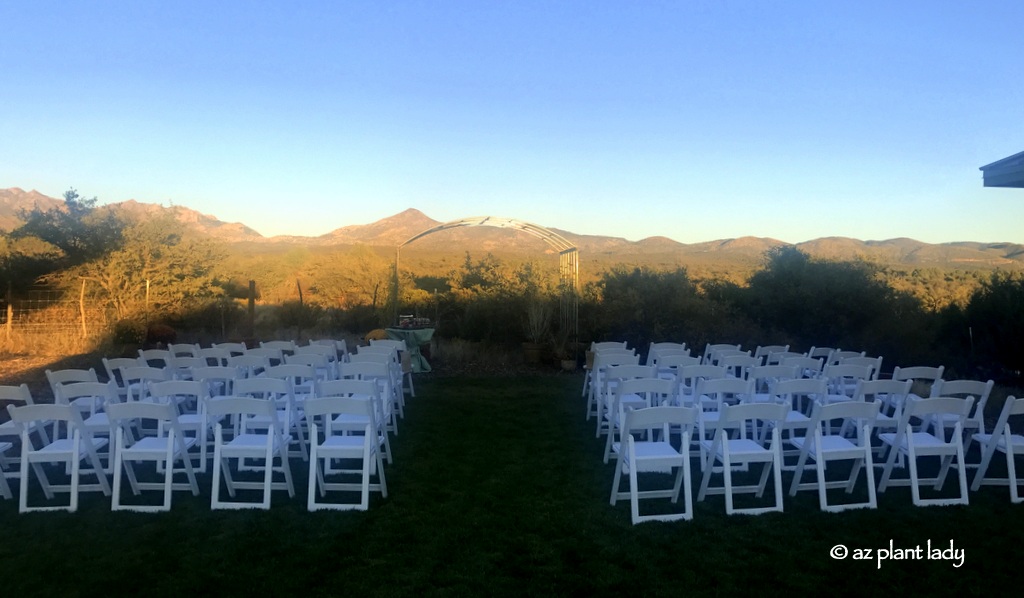 It was dusk when the wedding began, and the setting couldn't have been more beautiful. A cool breeze welcomed guests to the venue that backed up onto the Prescott National Forest.
The ceremony was beautiful, and the groom got all choked up in the midst of his vows. Guests spent a great time celebrating at the reception, held in an old barn, and we got back to the hotel late.
We took a back way back home, which involved driving some curvy mountain roads, but we traveled through little towns that we had never heard of such as Wilhoit and Peeble Valley.
I love the fact that even after living here for over 30 years, I still enjoy the beauty of our state and yet encounter new places.
**Do you have a favorite place to visit in Arizona?

https://www.azplantlady.com/wp-content/uploads/2017/10/Sweet_Potato_Vine_Containers_Tlaquepaque.jpg
767
1024
arizonaplantlady@gmail.com
http://www.azplantlady.com/wp-content/uploads/2018/10/favicon.png
arizonaplantlady@gmail.com
2017-10-07 22:57:42
2022-10-02 01:07:37
Arizona Road Trip: Flowers, Containers, and a Wedding