Got Lemons? Make Your Own DIY Citrus Salt
Do you have a lemon or other type of citrus tree growing in your backyard?
Chances are, if you live in California, the Southwest or Southeastern United States, you do or your neighbor does.
While many people throughout the rest of the nation are waiting for snow to disappear, we get to enjoy the sight of colorful citrus fruit hanging from our trees, just ready to be picked and enjoyed.
During this time of year, neighbors give bags of excess fruit to neighbors or local food banks.
I have a young lemon tree, that isn't old enough to produce fruit for me, but that hasn't stopped me from having lemons to use.
Between my mother's prolific lemon tree on the family farm to those from my vet (who happens to be our neighbor), I have plenty to use.
I've used lemons in a variety of ways from freezing the zest, the juice, making citrus cleaner, natural air fresheners and was looking for another way to use them.
I recently learned about lemon salt and how great it tastes on my favorite dishes – chicken, fish, homemade salad dressings, salsa and much more – basically anything that you want to add a hint of citrus and salt too.
Making lemon salt is very easy to do and can be done using grapefruit, limes, or oranges instead.
Citrus salts make a great homemade gift and are also a great way to preserve the taste of your favorite citrus when they are no longer in season.
Whether you grow your own lemons or buy them from the store, lemon salt is easy to make.
1. You'll need 3 lemons and 1 cup of kosher salt.
2. Zest 3 lemons.
3. Add together 1 cup kosher salt, the lemon zest and the juice from 1 lemon.
(Of course, you can make a lot more, like I did – I had a lot of lemons and wanted to make some as gifts.)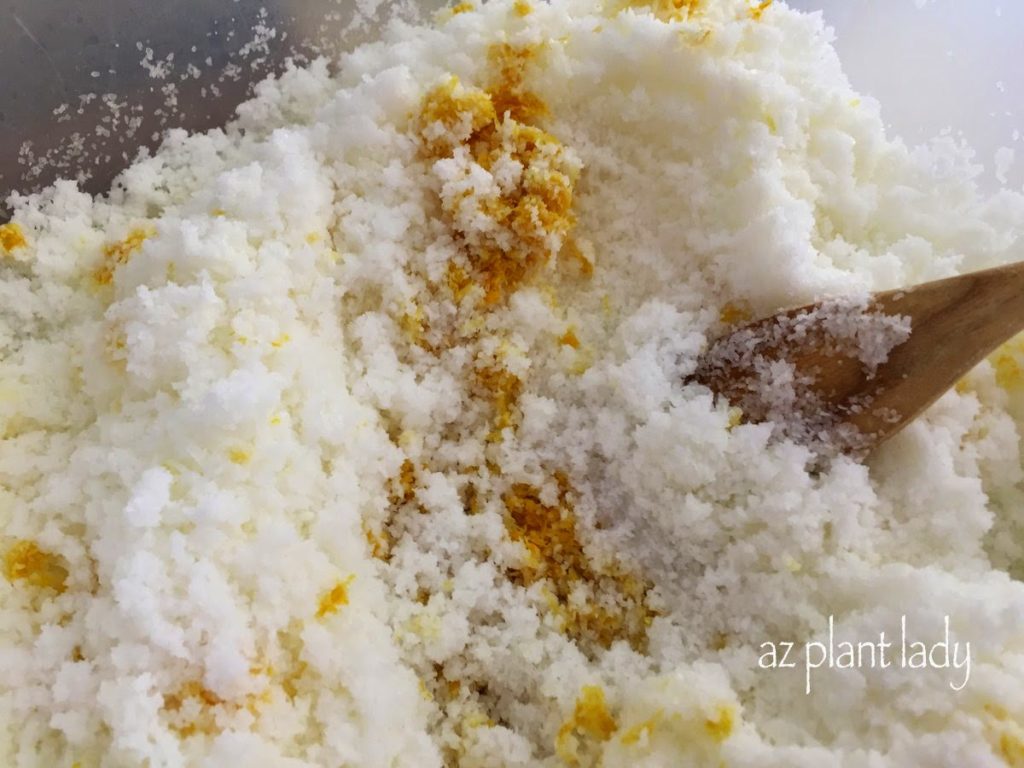 4. Mix together the lemon juice, salt and zest.
5. Pour the lemon salt mixture into a shallow baking dish or cookie sheet.
6. Place in a 200 degree F. oven for a half hour. Then lightly mix it up and bake for another 20 minutes.
(If it hasn't dried all the way, cover it with a clean dish towel and let sit overnight.)
7. Use your fingers to break up any large clumps or you can put it in your food processor and pulse it 2 – 3 times.
That's it! I told you it was easy. You can use it right away or store it in a sealed jar to keep it for longer.
Lemon or salts made from other citrus fruit last a long time – at least a year if put in a sealed container.
If you love lemon pepper, you can simply add pepper to the mixture for a delicious addition to your steak!
I've been enjoying making flavored salts for cooking with. Last year, I made basil and herb salts, which were delicious too!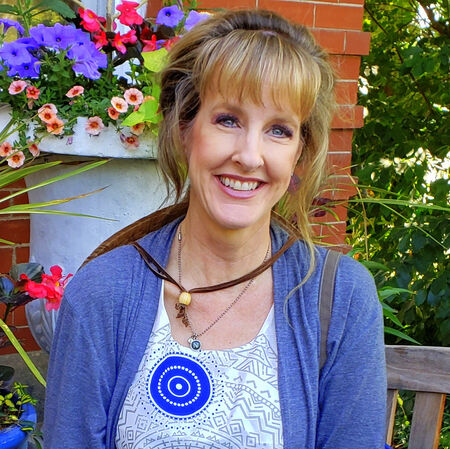 Noelle Johnson, aka, 'AZ Plant Lady' is a author, horticulturist, and landscape consultant who helps people learn how to create, grow, and maintain beautiful desert gardens that thrive in a hot, dry climate. She does this through her
consulting services
, her online class
Desert Gardening 101
, and her monthly membership club,
Through the Garden Gate
. As she likes to tell desert-dwellers, "Gardening in the desert isn't hard, but it is different."
https://www.azplantlady.com/wp-content/uploads/2015/02/RipeLemonsDSF-1.jpg
1200
900
arizonaplantlady@gmail.com
http://www.azplantlady.com/wp-content/uploads/2018/10/favicon.png
arizonaplantlady@gmail.com
2015-02-13 14:00:00
2022-10-29 23:19:37
Got Lemons? Make Your Own DIY Citrus Salt