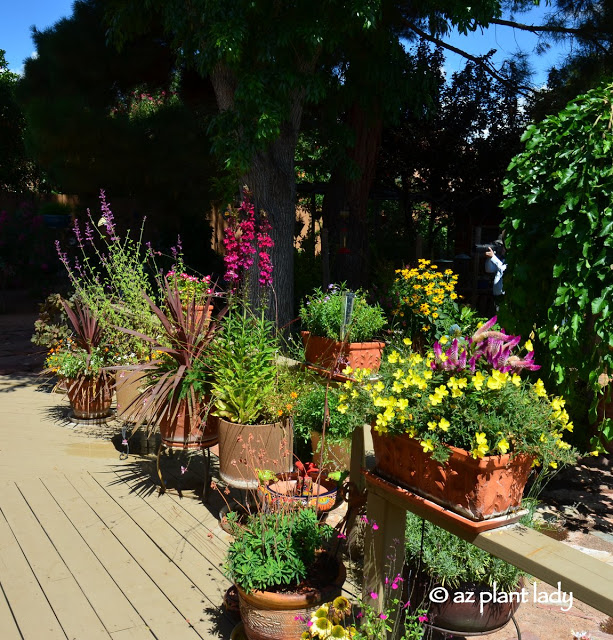 Imagine a garden with containers filled with a variety of colorful flowers, herbs, ornamental grasses, succulents and even vegetables.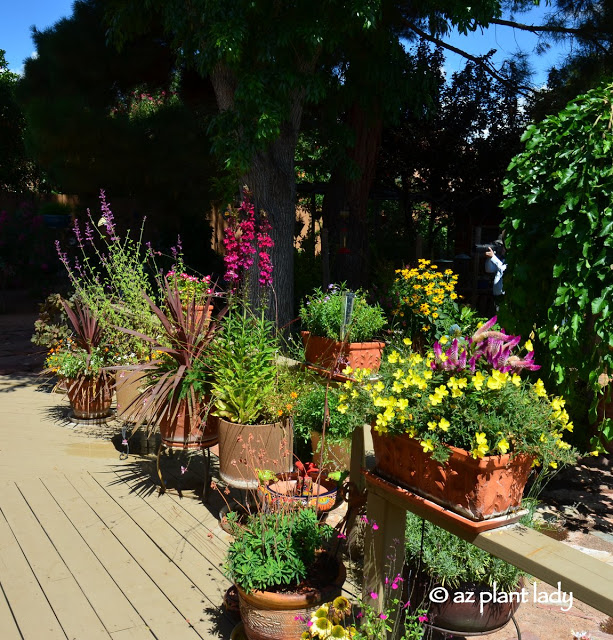 Wouldn't you love to have pots that look like this, overflowing with beautiful plants?
But, what if you live in the desert? Can you grow plants in pots that aren't just beautiful but that can thrive in our hot, dry climate?
Believe it or not, you can. Whether your container garden is limited to one pot or several – you can grow plants in pots in the desert garden.
Now before you say, "I've got a black thumb…everything I plant in pots die", I have a great resource for you.
"Getting Potted In The Desert" is a wonderful resource that shows you step-by-step instructions on how to create beautiful potted gardens that will thrive in our desert climate.
While you can find other books that offer helpful advice on how to create potted gardens, "Getting Potted In The Desert" speaks specifically to those of us who live and garden in the desert Southwest where our hot, dry summers bring about special challenges.
Beyond the helpful advice on selecting containers and the right location, the book also talks about plant choices including flowering annuals, perennials, grasses, herbs, succulents and vegetables.
Clear and easy to understand guidelines are given on how to water, fertilize and how to adjust to changing weather conditions including freezing temperatures.
What's even better, the guidelines are broken up into monthly guides, making growing plants in pots, easy.
Lists of plants that do well in the desert container garden are also given along with lovely photographs of pots filled with plants, which will inspire you.
Herb Container Garden
The author, Marylee Pangman, has over 20 years of experience growing potted plants in the desert. In fact, she is a certified Master Gardener and had her own company, "The Contained Gardener", where she designed and maintained container gardens for clients.
In addition, she has taught numerous classes on growing potted gardens that can withstand hot summers and desert winters.
Flower and Vegetable Container Garden
As a horticulturist who has planted and maintained container gardens over the years, I can tell you that Marylee's book is a godsend for those who love container gardening and need practical guidance.
*****************************
So, now for the giveaway…
Marylee has graciously offered to send a free copy of "Getting Potted in the Desert" to the winner of this giveaway.
1. To enter, simply leave me a comment about what plant you would like to grow in pots or what you like about container gardening.
(Be sure to leave your email address if it's not on your profile, or I won't have any way to contact you.)
2. For a bonus entry, like me on Facebook or follow me on Twitter – (be sure to let me know in your comment).
Let your friends know about this great giveaway and I will
pick a random winner on October 5th.
You can also order your own copy of "Getting Potted In The Desert" and find out more about Marylee at www.potteddesert.com
*I was provided with a free copy of this book for my honest review.

Noelle Johnson, aka, 'AZ Plant Lady' is a horticulturist, certified arborist, and landscape consultant who helps people learn how to create, grow, and maintain beautiful desert gardens that thrive in a hot, dry climate. She does this through her 
consulting services
, her online class 
Desert Gardening 101
, and her monthly membership club, 
Through the Garden Gate
. As she likes to tell desert-dwellers, "Gardening in the desert isn't hard, but it is different."
https://www.azplantlady.com/wp-content/uploads/2015/09/colorful_containers_penstemon_Sedona_garden.jpg
640
613
arizonaplantlady@gmail.com
http://www.azplantlady.com/wp-content/uploads/2018/10/favicon.png
arizonaplantlady@gmail.com
2015-09-28 13:30:00
2020-03-04 11:57:23
Container Gardening Book Review & Giveaway: "Getting Potted In The Desert"