Creative Container Gardening Tips
Spring in the desert brings a flurry of activity out in the garden – much of it involving container gardening.
As they say, in late spring, it's "out with the old and in with the new." In the desert garden, it's when cool-season flowering annuals are traded out for those that can handle the hot temperatures of summer.
Examples of cool-season annuals are pansies, petunias, and snapdragons, which are grown fall through spring. BUT, they won't survive hot, desert summers. So, in late April, it's time to plant flowering annuals that can take the heat. My favorites include angelonia, 'Blue Victoria' salvia, and vinca.
While flowers are a popular pot filler, there are so many other things that you can do with growing plants in containers.
Here are some of my favorites:
Jazz up the appearance of your containers by painting them a different color.
Let's face it – beautiful containers can be expensive while inexpensive plastic containers are a bit boring. I like to dress up my plastic containers by adding a coat of paint.
Many spray paints can be used on plastic and last a long time. I have several painted pots in my garden that add a welcome splash of color.
Grow herbs and vegetables along with flowers in pots.
Leaf lettuce and garlic grow along with flowering petunias.
Did you know that you can grow vegetables in pots? I love doing this in my garden. In the fall, I plant leaf lettuce, spinach, and garlic in my large pots alongside flowering petunias. When March arrives, I like to add basil, peppers along with annuals.
Winter container garden with spinach, parsley and garlic growing with pink petunias.
For pots, I recommend you use a potting mix, which is specially formulated for containers and holds just the right amount of moisture.
Container plants need to be fertilizer. You can use a slow-release fertilizer or a liquid fertilizer of your choice.
Cucumbers growing with vinca and dianthus.
In spring, vegetables such as cucumbers, bush beans, and even zucchini can grow in containers paired with flowers.
*If you would like to try growing edible containers, click here for more info.
Plant succulents for a low-maintenance container.
My favorite filler for containers in the desert garden is cacti and succulents. They do very well in pots and need less water than those filled with flowering annuals and perennials.
Desert Spoon (Dasylirion wheeleri).
Succulents are an excellent choice for planting in areas where water is not easily accessible. While they will need supplemental water, they don't need water every day, making them a better choice for these areas.
In general, succulents are lower-maintenance as well, so they are an excellent choice for the 'fuss-free' gardener.
Use a potting mix specially formulated for cactus & succulents, which will drain well.
Fertilize succulents spring through fall using a liquid or slow-release fertilizer at 1/2 the recommended strength.
*For more information on how to plant succulents in containers, including how to do it without getting pricked, click here.
Fill the bottom space of large pots with empty, plastic containers.
Let's face it – the potting mix is expensive and makes your pots very heavy. If you have a large pot, your plant's roots most likely will never reach the bottom – so why waste soil where you don't need it?
Fill up the unused space with recycled plastic containers and then add your potting mix. You will save money, AND your container will be much lighter as well.
Whether you are new to gardening, an experienced pro, or have a small or large garden space – I invite you to reimagine what you can do in a container!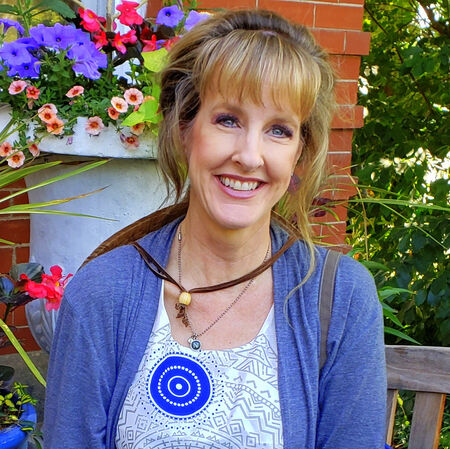 Noelle Johnson, aka, 'AZ Plant Lady' is a author, horticulturist, and landscape consultant who helps people learn how to create, grow, and maintain beautiful desert gardens that thrive in a hot, dry climate. She does this through her
consulting services
, her online class
Desert Gardening 101
, and her monthly membership club,
Through the Garden Gate
. As she likes to tell desert-dwellers, "Gardening in the desert isn't hard, but it is different."
https://www.azplantlady.com/wp-content/uploads/2014/03/potting_demonstration-1.jpg
998
1200
arizonaplantlady@gmail.com
http://www.azplantlady.com/wp-content/uploads/2018/10/favicon.png
arizonaplantlady@gmail.com
2020-04-21 07:11:00
2022-09-17 04:56:15
Creative Container Gardening Tips