Shrubs Aren't Meant To Be Cupcakes, Frisbees, or Pill Boxes
The Pitfalls of Improper Pruning: A Tale of Flowering Shrubs
Flowering Shrubs need pruning, but how they are pruned makes such a difference. Aren't these shrubs beautiful?
Texas Sage 'Green Cloud' (Leucophyllum frutescens 'Green Cloud')
Texas Sage 'Green Cloud' (Leucophyllum frutescens 'Green Cloud')
Thunder Cloud Sage (Leucophyllum candidum 'Thunder Cloud')
Thunder Cloud Sage (Leucophyllum candidum 'Thunder Cloud')
Rio Bravo' Sage (Leucophyllum langmaniae 'Rio Bravo')
'Rio Bravo' Sage (Leucophyllum langmaniae 'Rio Bravo')
You would think that the beauty of these shrubs, in flower, would be enough for people to stop pruning them into absurd shapes, but sadly, this is not the case. In the Desert Southwest, there is an epidemic of truly horrible pruning that affects not only Texas Sage (Leucophyllum species), but also Cassia (Senna species), Fairy Duster (Calliandra species), and even Oleander.
The Consequences of Excessive Pruning
Unsurprisingly, excessive pruning like this is NOT healthy for shrubs and it strips them of their beauty.
The 'Frisbee' Phenomenon
You don't have to go far to see these sad shrubs. All you need to do is drive down the street as I did…
Okay, it should be rather obvious, but I will say it just the same, "Do not prune your shrubs into the shape of a 'frisbee'.
The 'Pillbox' Pruning
I kept driving and found even more examples of truly awful pruning. Sadly, all are within a 5-minute drive of my house.
I call this 'pillbox' pruning. These Texas Sage & Cassia shrubs were located across the street from the 'frisbee' shrubs.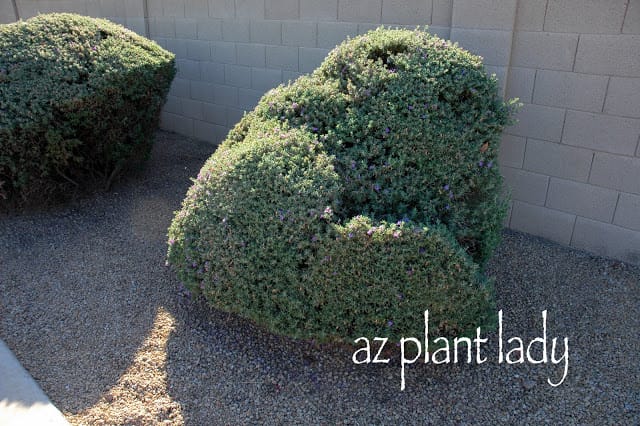 An attempt at creating a 'sculpture'? Texas Sage 'Green Cloud' (Leucophyllum frutescens 'Green Cloud')
A second attempt at creating a sculpture?
Let's get real. Shrubs pruned this way does nothing to add beauty to the landscape. And, when pruned this way, they cost more, take more time, and use more water – it's true!
'Cupcake' Pruning: An Unappetizing Approach
Now on to some of my favorite 'cupcake' examples:
An entire line of 'cupcakes'. 'White Cloud' Texas Sage (Leucophyllum frutescens 'White Cloud')
Do you think they use a 'level' to make the tops perfectly flat? I honestly wouldn't put it past them.
You can see the dead area on the top, which is caused from this shrub being sheared repeatedly.
This dead growth is caused by lack of sunlight. Repeated shearing (hedge-trimming) keeps sunlight from reaching the interior of the shrub. As a result, branches begin to die.
After driving around for a while, I drove toward home when I saw the saddest ones of all…
Flowering Shrubs Need Pruning, but these are Disappointing
Now if you look closely, you can see a light layer of gray-green leaves, which really don't begin to cover the ugly, dense branching that has been caused by years of repeated shearing.
I actually like topiary, but not when done to a Texas Sage. Some people prune up their shrubs so that they can clean up the leaves underneath more easily.
The Goal Should be to Prune with Purpose
Now, I am not against formal pruning, when performed on the right plants. But, it is not attractive when done on flowering, desert plants and it is also unhealthy for the shrubs themselves and contributes to their early death in many cases. Add to that the fact that it greatly increases your maintenance costs due to repeated pruning and having to replace them more frequently.
Now if you have shrubs that look like any of these pruning disasters, don't panic! They can be fixed in most cases.
Now, why would anyone want to remove the flower buds from your shrubs by shearing, when you can have flowers like this?
Join the 'Cupcake-Free' Movement
If you are tired of unnaturally shaped shrubs in your landscape, I understand. Believe it or not, most flowering shrubs need pruning once or twice a year at most – and NOT the type of pruning into weird shapes. I find it ironic that your yard will look better when you do less.
So, if you are wanting to declare your landscape a 'cupcake-free' zone, I have something I think you're gonna love. I invite you to check out my popular online shrub pruning workshop where I teach you how to maintain flowering shrubs by pruning twice a year or less. Hundreds of students have taken the course and are reaping the rewards of a beautiful outdoor space filled with colorful shrubs at a fraction of the work.
Are you ready to break out of the cycle of green blobs?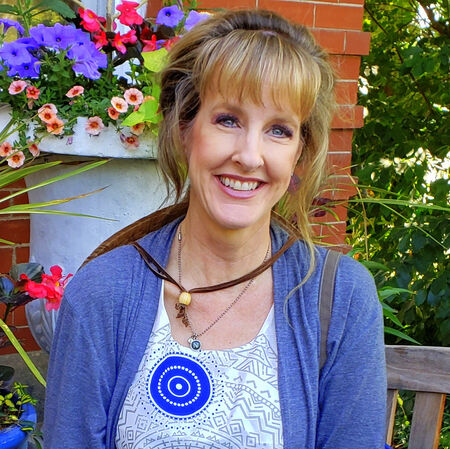 Noelle Johnson, aka, 'AZ Plant Lady' is a author, horticulturist, and landscape consultant who helps people learn how to create, grow, and maintain beautiful desert gardens that thrive in a hot, dry climate. She does this through her
consulting services
, her online class
Desert Gardening 101
, and her monthly membership club,
Through the Garden Gate
. As she likes to tell desert-dwellers, "Gardening in the desert isn't hard, but it is different."
https://www.azplantlady.com/wp-content/uploads/2009/11/DSC_0043.jpg
640
640
arizonaplantlady@gmail.com
http://www.azplantlady.com/wp-content/uploads/2018/10/favicon.png
arizonaplantlady@gmail.com
2021-02-11 06:54:00
2023-09-26 15:47:53
Shrubs Aren't Meant To Be Cupcakes, Frisbees, or Pill Boxes