Today's post is from my sister (Chicken Farmer) and resident of Double S Farms.
As a California transplant living in the desert of Arizona, there are a few things that really trip me out and one of them is flood irrigation. Every two weeks in the summer and once a month in the fall, winter, and spring months, we irrigate our yard with a "flood."
Very few homes in Arizona actually have this type of irrigation. It's usually found in older neighborhoods and neighborhoods zoned for agricultural use. My sister, who is an expert on all things garden/desert/plants blogged about flood irrigation here and explained that the water sinks deeply into the soil which makes for deep roots for both grass and trees. It also helps to flush out salts that accumulate in the soil.
Best seat in the house on a hot summer day.
Snow melt and rain water is accumulated throughout the year in a system of reservoirs and canals. One of these canals runs right behind our backyard. We sign up to irrigate through our local utility company. We are allowed up to 3 hours of constant flood irrigation but we usually sign up for just an hour and a half to two hours. The utility company then sends out a schedule with our irrigation time (which lately has been in the middle of the night!). When it's our time, I drive to the end of the street to open the flood gates and turn on the valve that you can see above to get the water flowing.
Although it looks wasteful, if done properly, flood irrigation is a very efficient way to water. Because of the heat where we leave, a lot of the water from daily sprinkler use evaporates before it has a chance to soak in. A once a month deep water is much better for plants in the desert than a daily, light sprinkle. The key is to figure out just how much water you need and order the right amount. It's also important that your yard is nice and even or a little hill or slope will send that water right into the street. Sadly, I have seen some neighbors water their driveways on occasion.
Our first irrigation -we hadn't figured out how much water we needed and obviously ordered too much.
My dog Sodapop goes crazy over the irrigation. As soon as she sees the water flowing, she runs up to the valve and lays right next to it. The boys love it too. They think it's a blast to take a pair of my flip flops and have "boat" races. I love the irrigation because it brings a ton of fun critters to the backyard – ducks, snakes, toads, and all kinds of cool shore birds.
Yesterday was irrigation day and we are fortunate that it wasn't scheduled for the middle of the night. It was scheduled for late afternoon which is the hottest time of day. The boys were stoked!
We've been irrigating this way for over a year now and I still think it's kind of bizarre (although we have the happiest fruit trees ever). Almost as bizarre (but not as scary) as the scorpions out here – which I'll never get used to. But that's an entirely different post.
Noelle here again – UPDATE:
Guess what also came in with the water?
Yes, that is a fish. Actually the fact that it made it's way into the backyard isn't really all that strange. Fish are released into the canals to help to eat the algae that can build up along bottom and sides. This particular fish made it's way from the larger canals to the smaller ones and into the backyard of Double S Farms.
The fish was released back into the canal by Farmer Dad. I wonder if it will wind up in someone else's garden?
Please visit my sister's blog FinleyandOliver to read more about her adventures in the desert southwest.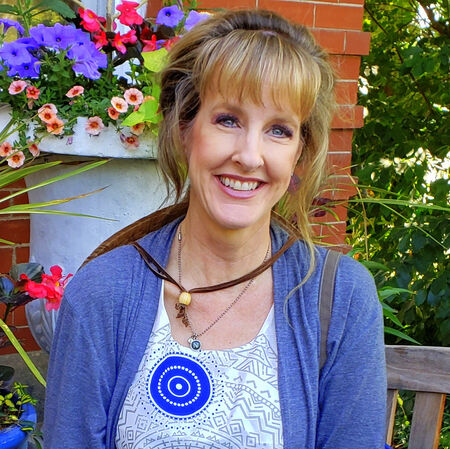 Noelle Johnson, aka, 'AZ Plant Lady' is a author, horticulturist, and landscape consultant who helps people learn how to create, grow, and maintain beautiful desert gardens that thrive in a hot, dry climate. She does this through her
consulting services
, her online class
Desert Gardening 101
, and her monthly membership club,
Through the Garden Gate
. As she likes to tell desert-dwellers, "Gardening in the desert isn't hard, but it is different."
https://www.azplantlady.com/wp-content/uploads/2010/07/IMG_8363.jpg
480
640
arizonaplantlady@gmail.com
http://www.azplantlady.com/wp-content/uploads/2018/10/favicon.png
arizonaplantlady@gmail.com
2010-07-02 14:00:00
2021-02-22 07:46:48
It's Irrigation Day…