Well after a short break, I am here to showcase a lesser-known plant for you to try in your garden.  
Today, my garden is enjoying copious amounts of rain. In the desert, the arrival of rain is something that is usually celebrated. Furthermore, add to that the fact that we have had a rather dry winter, I am very happy to be stuck inside today.
I am very excited to show you this lesser-known plant.  
Are you ready?  Drum roll please…


This Australian native is known by different common names with Purple Lilac Vine (Hardenbergia violacea) being commonly used in our area of the Southwest.  
It is not actually a lilac, but because we cannot grow lilacs in the low desert, this is a wonderful substitute.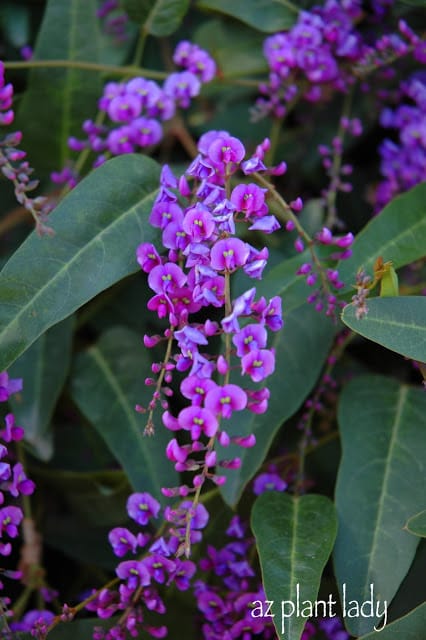 My first experience in using Purple Lilac was over 10 years ago where I used it in a feature area on one of the golf courses I worked for.
Although traditionally, used as a vine, I used it as a ground cover and believe it or not, it did beautifully.  
One of the best attributes of this vine is that it blooms during the month of February in our zone 9 gardens.  
Now be honest, there is not much going on in your garden this month, is there? Wouldn't it be great to have gorgeous purple flowers blooming right now?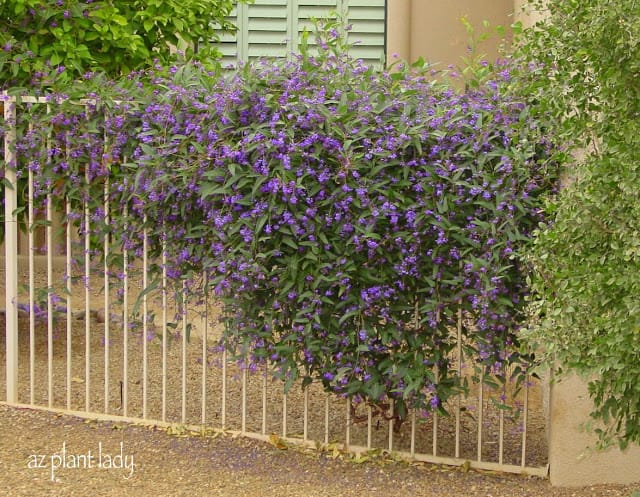 Here are more reasons to try out this vine in your garden:
Flowers in winter.
When not in flower, attractive leaves cover the vine year round.
Fairly low-maintenance.  Prune to control size if needed.  Supplemental fertilizer is usually not needed.
Requires a trellis or other support to grow upwards.
Hardy to zone 9.
Under normal winter temperatures, does not suffer frost damage.
Can be used as a screen.  For example, it will climb along a fence, blocking the view of what is inside.
When people ask me if I recommend a particular plant, I tell them that the highest commendation that I can give is that I have that plant growing in my garden.
You see, I do not have the patience to grow a plant that struggles and/or takes too much maintenance.  It also has to look beautiful most of the year.
So if you ask me if I truly like this vine, I answer by saying that I have four growing in my backyard 🙂
**One complaint that I have hear often is that it can be hard to find in your local nursery. Don't worry, most nurseries normally have them in stock when they are in flower in winter.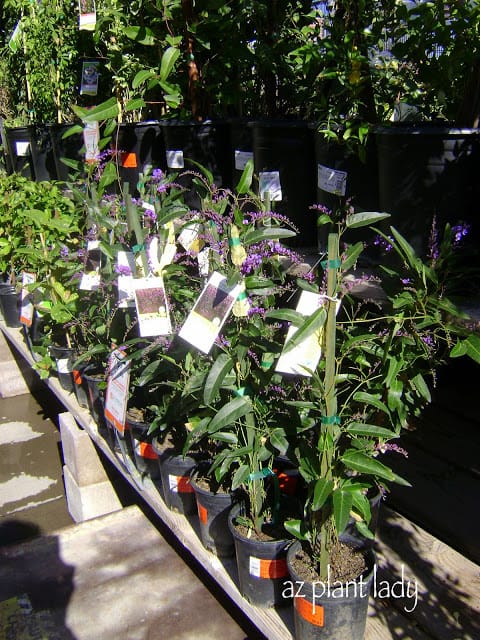 So if you would like to try this beautiful vine in your garden; go to your nursery now.  If you wait too long, you may have to wait until next year before you find another one to plant.
**It's important to note that although the flowers look a bit like lilacs, they are not particularly fragrant.


Noelle Johnson, aka, 'AZ Plant Lady' is a horticulturist, certified arborist, and landscape consultant who helps people learn how to create, grow, and maintain beautiful desert gardens that thrive in a hot, dry climate. She does this through her 
consulting services
, her online class 
Desert Gardening 101
, and her monthly membership club, 
Through the Garden Gate
. As she likes to tell desert-dwellers, "Gardening in the desert isn't hard, but it is different."
https://www.azplantlady.com/wp-content/uploads/2011/02/Hardenbergia.jpg
640
640
arizonaplantlady@gmail.com
http://www.azplantlady.com/wp-content/uploads/2018/10/favicon.png
arizonaplantlady@gmail.com
2011-02-20 12:11:00
2019-10-03 14:03:06
A Lilac for the Desert? Another Great Lesser-Known Plant to Try