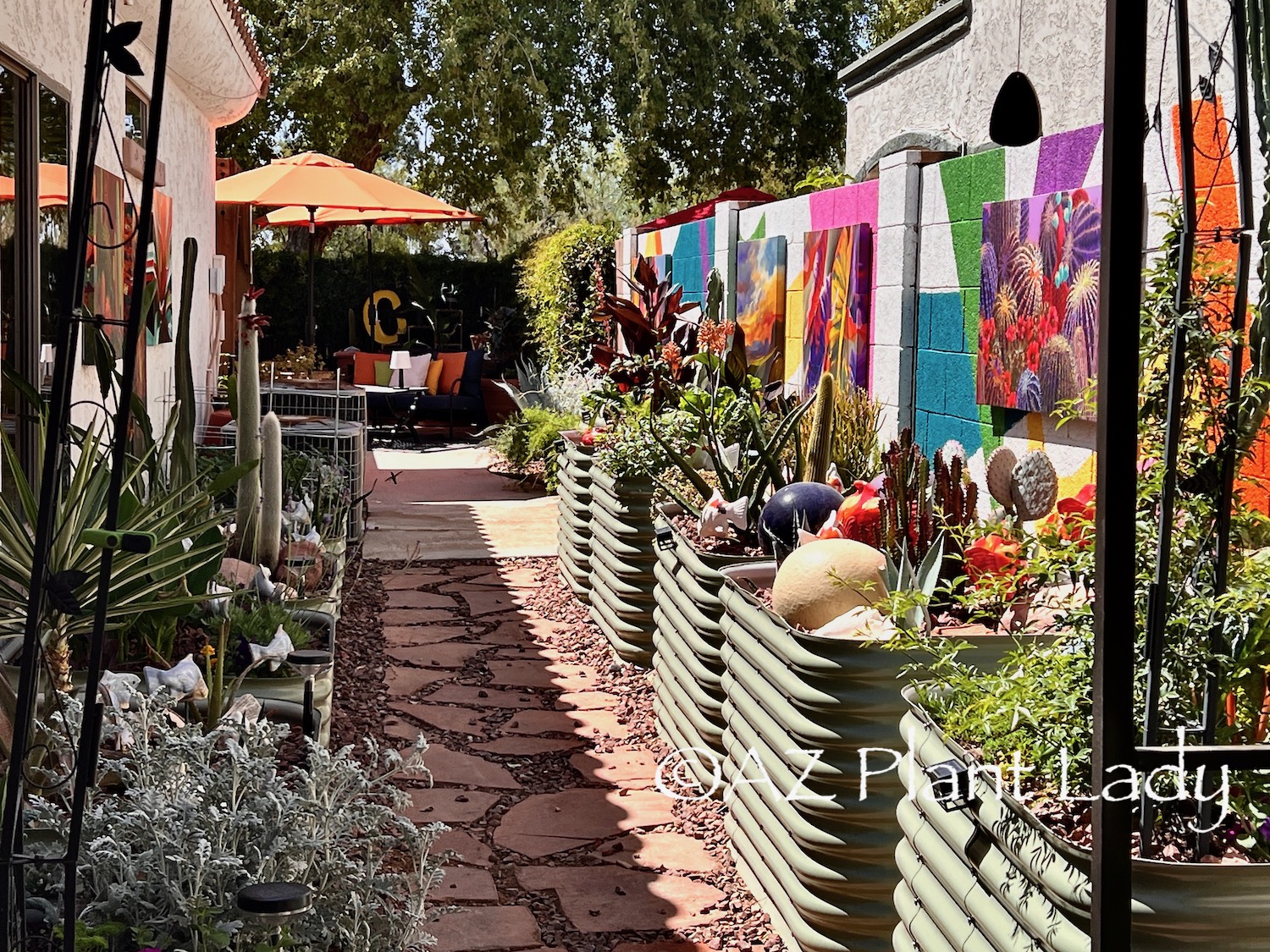 Do you have a side garden or perhaps an empty stretch of landscape along the side of your house?
Many of my clients do, and they desire something attractive to look at when they look outside their windows. Because let's face it – staring at a bare block wall is boring!
It could be that your side yard is narrow or super shady, which makes growing plants difficult.
Well, I'm here to share ample inspiration for your side yard with three ideas for you to consider.
Imagine being able to add colorful art to your outdoor walls!
My friend Shawna Coronado has done that in her side garden with colorful prints specifically made to handle the outdoors. If you have boring walls and no space to add plants, an all-weather canvas is an excellent option for adding colorful interest. Or perhaps as a backdrop for lower-growing plants.
I love visiting her garden and how she uses her artist's eye to create vibrant vignettes throughout her backyard. Shawna is a noted gardener and author who moved from Chicago to the deserts of Arizona several years ago. I've had the privilege to witness how she has embraced desert gardening, and she brings her unique style to her outdoor space.
Shawna loves plants as much as I do and has added galvanized steel raised beds along her entire side yard. The beds are powdered coated with a nice sage-green color which blends well with the desert garden palette.
A combination of succulents, perennials, and vegetables make their home in her raised beds. The narrow space can limit the sunlight plants receive for many side yards when planted in the ground. Using raised beds increases the amount of sunlight they receive.
I love this combination of agave, aloe, mangave, prickly pear, and yucca, which is low water and attractive. Ceramic garden fish appear to swim among underwater plants – I love whimsy like this in the garden!
If you have a wide side yard, you can use raised beds on either side to maximize your available gardening space.
I invite you to rethink your side yard space. Whether it is a barren area or filled with plants that seem to struggle, there are options from canvas prints and raised beds to whimsical garden art.
Click here to learn more about Shawna's side garden gallery and where to purchase canvas prints, raised beds, and ceramic fish.

https://www.azplantlady.com/wp-content/uploads/2023/04/Artist_Garden_Shawna_Coronado_Desert.jpg
1125
1500
arizonaplantlady@gmail.com
http://www.azplantlady.com/wp-content/uploads/2018/10/favicon.png
arizonaplantlady@gmail.com
2023-04-25 11:17:37
2023-04-25 11:17:42
Colorful Art Transforms a Side Yard