Pups Ready to Leave Home….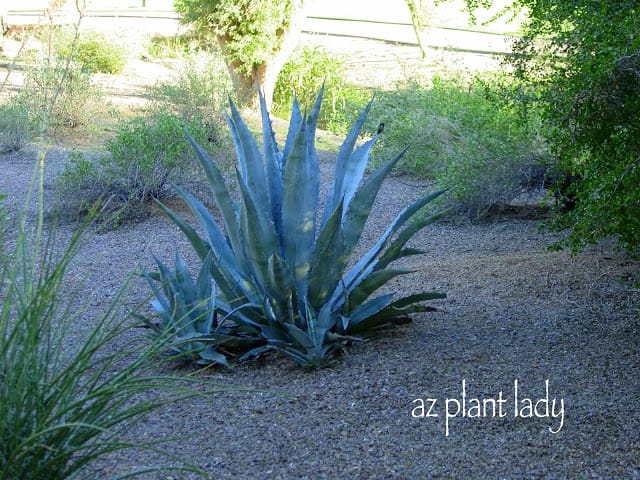 Now, you may think that I am talking about soft, cuddly puppies finding a new home. But, I am actually talking about my agave pups. The word 'pups' refers to the small agave offsets that sometimes form from the adult agave.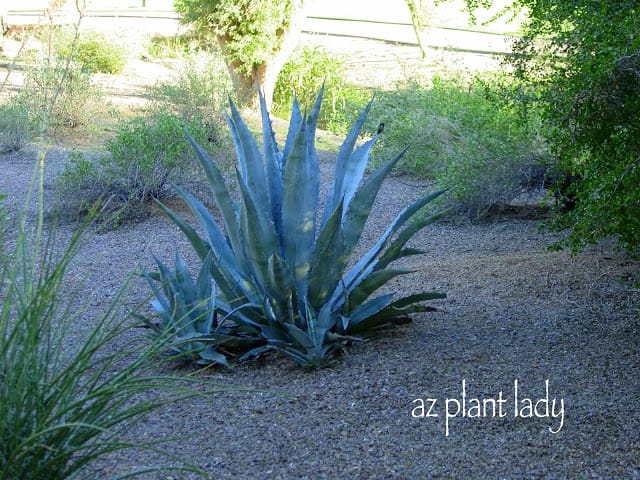 Agave americana surrounded by her 'pups'.
Some agave species produce quite a few pups, while other species rarely do. I do try to stay from agave species like Agave americana because they produce so many pups that it becomes quite a maintenance chore to constantly remove them all. But that being said, I have many friends and clients who just love this particular agave.
Well, the day finally came in my garden for my agave pups to move away from their childhood home.
Can you see them? There are 4 in the picture above. Three are quite small still, but more then ready to leave their mother, my Agave parryi. I am actually quite excited to be getting pups from this agave because in my experience, they do not produce many pups. It may be that this one has because it does receive overspray from my lawn sprinklers.
Okay, this may seem obvious, but you would be amazed at how many people just start digging in the middle of their gravel (granite) without clearing it away first. Believe me…you want to clear it away first or else you will be left with a mixture of rock and soil mixed together.
Aren't they cute in a prickly sort of way? They really are quite tiny.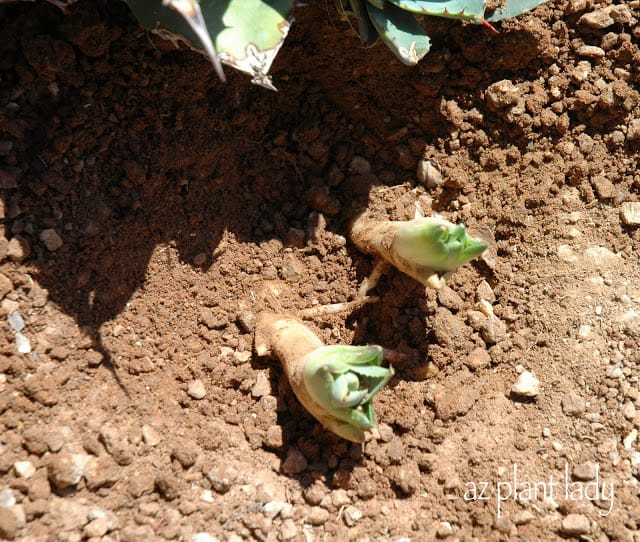 I carefully removed the soil around the pups, leading to the mother plant because the pups are still attached to her by a thick, fleshy root. You can see that the pups are beginning to form their own roots, branching out to the side.
Just cut the root connecting the pup to the adult agave….that's it. It is really very easy.
Now, this same adult agave also has another pup, which has grown much closer to home then these tiny pups.
This one did not want to leave home, even though it was quite grown up. When the pups are growing right up alongside the adult plant, just insert a shovel and push down firmly, cutting the connecting root. **Sometimes you have to be a bit forceful in getting some pups to leave home 😉
I was able to harvest 5 pups. I was so happy and had fun selecting where I wanted to put them in my garden.
Before you plant them, you need to put them in a dry, shady spot for 4 – 7 days so that the cuts have a chance to dry first. This helps to prevent rot when they are planted. Don't worry about them surviving without water for a few days….they have plenty stored inside – they are succulents after all.
Once you have planted them, they will need supplemental water to help them establish and grow roots. Agave do best when given supplemental water, even when mature. Most are connected to my drip irrigation system. The others receive overspray from my sprinklers, which is enough for them.
If you haven't noticed this before, I am not a perfect gardener and am likely to tell people, "Do as I say, not as I do". But, I do not profess to be a perfectionist and so I will show you one of my larger agave, whose pups should have left home long ago…
This is my Smooth Leaf Agave (Agave desmettiana). I love this type of agave. It is medium size, and the sides of the leaves do not have thorns. The thorns on the tips can easily be cut off if desired for a more pedestrian friendly agave.
As you can see from the photo above, the pups are quite large and should have been kicked out long ago. So, I brought in the muscle (my husband) to help get them out.
Because the pups were growing close to the parent plant, a shovel had to be used to separate them.
Agave desmettiana is known for producing offsets (pups), but in my experience, there are not too many.
Actually, the adult agave below was grown from a pup.
A proud parent and her 8 offspring. I planted a few and gave some to my mother, Pastor Farmer, of Double S Farms.
There were times when I worked on golf courses that my budget was tight, so I would ask residents to bring their agave pups to me so that we could use them in landscape areas around the courses. The residents were very generous and after a while, we had more then we knew what to do with. So, if you have some agave pups, plant one in a pretty container and give to a friend or donate them to your city, church or other organization.
**My son continues to do better each day. We did have a little bit of a setback on Saturday, but yesterday and today, he is feeling much better. Thank you again for your support and prayers!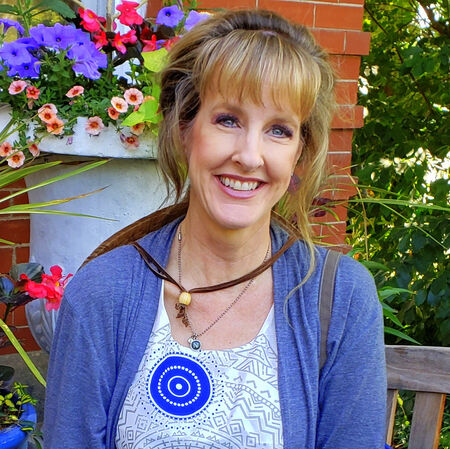 Noelle Johnson, aka, 'AZ Plant Lady' is a author, horticulturist, and landscape consultant who helps people learn how to create, grow, and maintain beautiful desert gardens that thrive in a hot, dry climate. She does this through her
consulting services
, her online class
Desert Gardening 101
, and her monthly membership club,
Through the Garden Gate
. As she likes to tell desert-dwellers, "Gardening in the desert isn't hard, but it is different."
https://www.azplantlady.com/wp-content/uploads/2010/06/Agave-americana-pups.jpg
480
640
arizonaplantlady@gmail.com
http://www.azplantlady.com/wp-content/uploads/2018/10/favicon.png
arizonaplantlady@gmail.com
2010-06-07 17:13:00
2021-02-22 10:45:01
Pups Ready to Leave Home….