What do you do when you spot aphids on your plants?

Do you reach for the nearest bottle of insecticide? Spray them off with a hose or remove them with your fingers?  
Believe it or not, sometimes the best thing is to do nothing.

So, is this something I learned in school? No. I figured it out by observing the plants in my first garden.
I remembered this early lesson when I passed by a severely pruned oleander shrub in front of my favorite bagel shop.  
The oleanders were growing back nicely. However, there were yellow aphids on the young leaves.
Years ago, my oleander shrubs had an infestation of yellow aphids like this, and I was anxious to get rid of them. Really, this is our first reaction when we see bugs on our plants – we want them gone.
I had several methods at my disposal – insecticidal soap, a strong jet of water or my fingers – all of which, would help get rid of most of the aphids. But, life got in the way, and I didn't have a chance to get out to treat my shrubs until about ten days later.  
Can you guess what I found?  Not a single aphid.  I didn't have to do a thing, and the aphids were gone, and my shrubs look great.
So, what happened to the aphids?
When harmful insect pests first appear, it can take a week or two before their natural predators follow. In the case of aphids, lacewing and ladybugs showed up and ate the aphids.  
Plants are tougher than we give them credit for and can handle a certain amount of insect pests without any adverse effects.  
So, when I come back in a couple of weeks to the same bagel shop, I expect to see no aphids in sight and a healthy oleander shrub.
The lesson here is that you don't need to freak out when you see aphids as the normal cycle of nature will take care of them. However, you can step in to get rid of them if you see adverse effects on plants such as wilting, smaller blooms, or discoloration.

/
5 Comments
/
by arizonaplantlady@gmail.com
https://www.azplantlady.com/wp-content/uploads/2016/05/aphids.jpg
640
424
arizonaplantlady@gmail.com
http://www.azplantlady.com/wp-content/uploads/2018/10/favicon.png
arizonaplantlady@gmail.com
2020-05-01 07:07:00
2020-04-26 19:04:45
Sometimes The Best Thing To Do About Aphids Is Nothing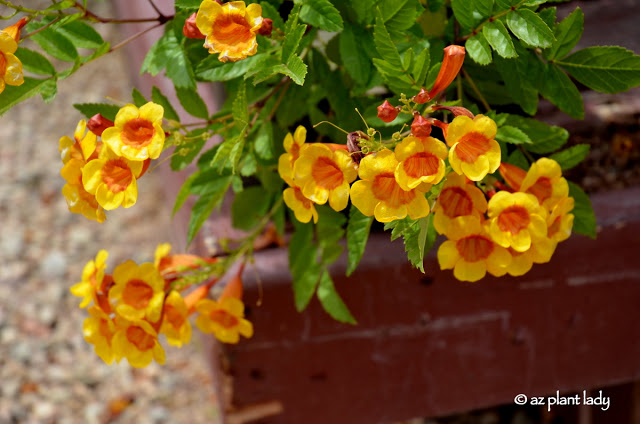 One of my favorite things I do as a landscape consultant is to show my clients newer plant introductions on the market.
Imagine being the first person on your block with the latest plant that all your neighbors will want to add in their landscape.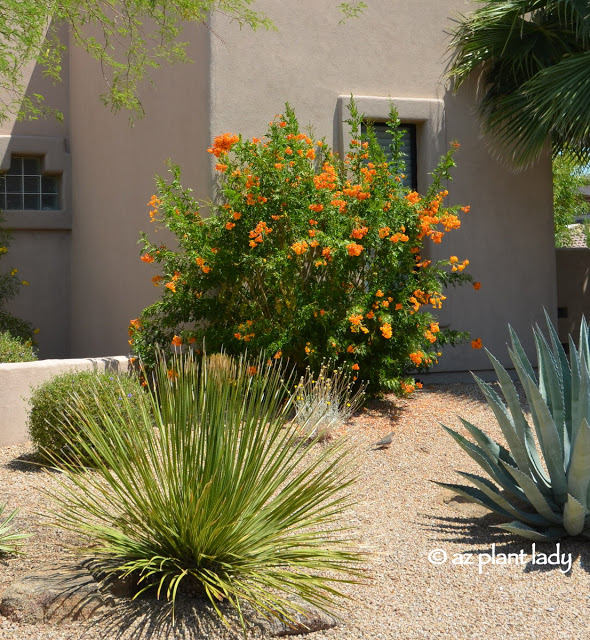 Tecoma x 'Orange Jubilee'
Many of you may be familiar with the large, orange-flowering shrub Tecoma x 'Orange Jubilee'. This popular shrub has clusters of trumpet-shaped flowers and a long bloom period. Its large size 8-12-foot height makes it a favorite for screening out a block wall or unfavorable view.
While the flowers and lush foliage are a plus, Orange Jubilee is too large for many smaller areas, which is why this newer shrub is one of my new favorites. 
'Sparky' Tecoma is a hybrid that has bi-colored flowers and is named after Arizona State University's popular mascot due to the coloring. It was created by a horticulturist and professor at ASU.
'Sparky' is about half the size of 'Orange Jubilee,' which makes it suitable for smaller spaces. It has smaller leaves and a slightly more compact growth habit, reaching 4-5 feet tall and wide.
Both types of Tecoma have the same requirements – plant in full sun and prune away frost-damaged growth in March.  'Sparky' is slightly more cold tender than 'Orange Jubilee'.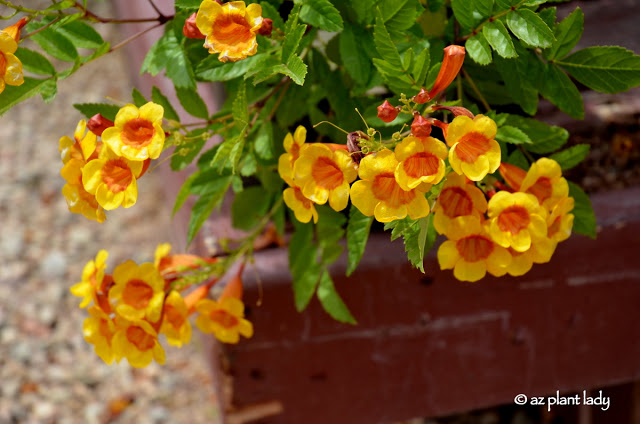 I have added three of these lovely shrubs in my front garden. One along my west-facing side wall, and two that flank either side of my large front window. They add beautiful color 9 months a year.
For those of you who are U of A alumni, you can plant one and call it something else. To date, there isn't any word of a red, white and blue hybrid yet – but, I'll be sure to let you know if they create one 😉

/
7 Comments
/
by arizonaplantlady@gmail.com
https://www.azplantlady.com/wp-content/uploads/2016/05/Sparky_Tecoma.jpg
424
640
arizonaplantlady@gmail.com
http://www.azplantlady.com/wp-content/uploads/2018/10/favicon.png
arizonaplantlady@gmail.com
2020-04-27 07:04:00
2020-04-26 19:16:39
A New Shrub Named After a School Mascot